8-19-2012 Classic Shell 3.6.0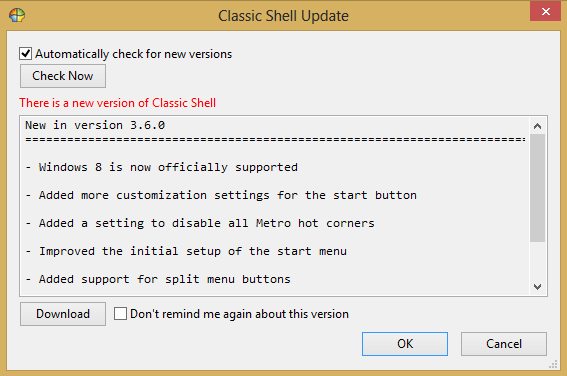 Click here to download from Soundforge.
The
new video
describing the latest version 3.6.0 which was just released,
can be found at:
http://youtu.be/6wqVMPnL1Lc
Popular posts from this blog
After the upgrade and because there are so many files to shift around the second run (where defrag kicks in) can take up to an hour
Download the SDK web installer from
here
(
https://www.microsoft.com/click/services/Redirect2.ashx?CR_EAC=300105886
)
Run the installer and select the following:
Leave the default location.
Windows Performance Toolkit
You must reboot on completion of the install
After reboot set aside about 30 – 45 minutes when you will not need the computer
When ready start an elevated command prompt :
Right click on the Start button (bottom left) and select Command Prompt (Admin)

Then copy and paste the following command into the black box :
xbootmgr -trace boot -prepSystem -verboseReadyBoot
Now your PC will be restarted 6 times. With a two minute pause before the tool runs after the desktop loads.
After the second reboot the MS defragmentation program is running and is placing the files into an optimized layout, so that Windows will boot up faster
The last Reboots are training of rea…