8-8-2012 Indian Prairie Computer Club - Hinsdale, Ill
The remote Presentation help on 8/8/2012 for the
Indian Prairie Computer Club
in Hinsdale Ill was attended by 55 of their members.
Here are some of the pictures the club sent back to me.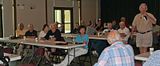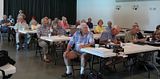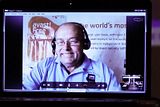 (Click any picture to Enlarge)
The presentation was followed by a Q&A session and unfortunately the video I was able to make of that session only contains
the audio from my end. (The answers.) You'll have to use your imagination as to what the questions where.
Click here to view the Video
Remember, if you live any where near Hinsdale Ill, this would be a great place to get some help with your computer problems.
Joining the club would also give you year around access to a wealth of knowledge.
You can visit the clubs Facebook Page for contact and other information.