FreeWare 11-30-07
Acoo Browser 1.74
Free
Acoo Browser is a powerful multi-tabbed Web browser based on the Internet Explorer engine.
It provides a user-friendly GUI interface, including tabbed document windows,
dockable panel groups and customizable toolbars. It allows users to surf multiple Web sites
within one browser window. It also includes many advanced features such as Mouse Gestures,
recoverable Popup Blocker, Ads Filter, script error suppression, Cleaner, external tools, web page zooming,
URL Alias, Integrated search engine support, and much more. It can block annoying pop-ups, banner Ads,
flash Ads and other Internet Ad annoyances automatically without interfering your surfing.
File Size:1655KB
Language:English
OS:Win2000/XP/2003/Vista
GreenBrowser 4.3.1122
Free

GreenBrowser is a multiple windows browser based on IE with other powerful features.
Such as: - Quick Key, Collector, Mouse Gesture, Mouse Drag, Ad Filter, Search Engine, Page Back Color,
Toolbar Skin, Proxy, Tab Bar, Auto Scroll, Auto Save, Auto Fill Form, Start Mode, Auto Hide Bar, Mouse Drag Drop...
You can search something direct in browser: news, mp3, hardware, software, stock and so on.
You also can add your search engine to engine list.In search bar, you can search keyword by search engine,
highlight keyword, find keyword in page. Search bar can save your keyword in a list.
File Size:1147KB
Language:Multilingual
OS:Win2000/XP/2003/Vista
Talking Alarm Clock 1.5
Free

This program lets your computer remind you of important dates and events. It uses Microsoft Agent
to show a talking animated alarm. The alarm can also play any sound you choose and includes a handy snooze button.
An alarm can be set to go off once, daily, weekly, monthly or annually, with very flexible scheduling.
Each alarm can have multiple schedules. An icon in the Windows system tray gives quick access to the alarm clock.
The New Alarm Wizard makes adding an alarm fast and easy.
File Size:10970KB
Language:English
OS:Win2000/XP/2003/Vista
Date added:November 23,2007
WebShot 1.53
Free

WebShot enables you to capture full size or thumbnail screenshots of webpages and save the resulting image in
JPG, PNG, GIF or BMP format. You can either capture the entire page (fully scrolled) in full size or
tweak the browser window and resizing settings to create a thumbnail image of the site.
WebShot can capture websites based on a single input URL, or you can load URLs from a text file (one per line)
and batch process the list of sites n a single run. A command-line interface is also available for advanced users.
Caledos Automatic Wallpaper Changer 6.42
Free

Caledos Automatic Wallpaper Changer 6 is the new version of our "classic" wallpaper changer.
It is an application that allows to change M*crosoft Windows desktop wallpaper periodically.
It can change your desktop wallpaper at every logon, or on regular basis from each minute up to each month.
It allows to select directories and file to include in a list from which it can choose next wallpaper to show.
File Size:1674KB
Language:English
OS:Win2000/XP/2003
SimpleOCR 3.5
Free

SimpleOCR will convert your scanned images to text files or Word documents with SimpleOCR,
the only OCR (Optical Character Recognition) application that is completly free. It is also a royalty-free developer toolkit
(aka SDK or API) that you may use to add OCR to your custom software application.
Fize Size:9510KB
Language:English
OS:Win2000/XP/2003
RGS-CardMaster 5.1
Free

RGS-CardMaster is a personal phonebook and contacts manager that helps you keep track of all your addresses,
phone numbers, fax, e-mail addresses and other contact information. It can interact with your phone dialer,
fax software and email program and also print contact lists and address sheets. Other features include a detailed search option,
export to CSV and MS Word mail merge document, integrated calendar, calculator and optional password protection.
File Size:1448KB
Language:English
OS:Win2000/XP/2003/Vista
save2pc Light 3.20
Free
save2pc (formerly known as YouTube Downloader) is a free tool that downloads videos from Youtube or Google Video
and saves it as Avi or Mpeg or Flv file to your local computer. save2pc allows you to easily grab and save desired youtube video.
The user interface of save2pc is very simple, so you don't need any technical knowledge to use it. No need to use scripts for web browsers.
Just run save2pc and start downloading! save2pc is a small, fast, useful, practical and powerful. It has a clean, simple interface.
Simply paste the URL of a video into the program, press Start , and the AVI, MPEG or FLV file will be downloaded into the selected folder.
You dont need any players to play flash video just play it on the defult media player clasic.
It contains absolutely NO ADWARE, NO SPYWARE, NO REGISTRATION, NO POPUPS, NO MALWARE or other unwanted software.
OS:Windows 95, 98, Me, NT, 2000, XP, 2003, Vista
MSD Organizer Freeware Free
This is a complete, powerful and easy to use personal and professional information manager with calendar,
alarms, tasks, contacts, personal diary, property, budget, health and music. It also provides the following tools:
backup and restore, word processor, image viewer, calculator and financial calculator.
[5.34M] [Win95/98/ME/NT/2k/XP/Vista] Top 9 Windows Utilities Free

Volumouse 1.53 Free
Volumouse - adjust the volume of your speaker with the wheel of your mouse.
Volumouse is a useful, small and free utility that provides you a quick and easy way to control the sound volume on your system
by simply by rolling the wheel of your wheel mouse.
File Size:44KB
Language:English OS:Win2000/XP/2003/Vista

Universal Viewer (ATViewer) 2.703 Free
This is an advanced file viewer with wide range of formats supported. Implemented view modes and corresponding file formats are:
Text/Binary/Hex/Unicode: all files, with unlimited file size (even 4Gb+ sizes are allowed);
RTF/UTF-8: RTF and UTF-8 encoded texts;
Image: all general graphics formats: BMP JPG GIF PNG TGA TIFF etc;
Multimedia: all formats supported by MS Window Media Player: AVI MPG WMV MP3 MIDI etc;
Internet: all formats supported by MS Internet Explorer: HTML XML DOC XLS etc;
Plugins: all formats supported by Total Commander Lister plugins.
The Viewer is fully Unicode compatible and can be integrated into Windows Explorer's context menu,
so there is no problem to call it from anywhere in Explorer: right-click on a file and select "Universal Viewer" item.
It can also be integrated into file managers that can pass to Viewer filenames via the command-line: in this case filename
should be passed as first optional command parameter (don't forget to double-quote name containing spaces).
File Size:1287KB
Language:English
OS:Win2000/XP/2003

Screen2exe 1.2 Free
Create instant screen demos with the highest compression ratio in the world.
With SCREEN2EXE, with this 400K FREE tool you can:
Record onscreen changes to a self-played EXE file.
An EXE file can be used on any Windows system, it has best compatibility.
Record mouse movement and clicking.
The movement and click of mouse can be saved and replay to help illustrate better,
Record speech from microphone.
You can record your voice with the screen synchronized.
Support partial recording.
You can select a rectangle as a region for recording.
Get smallest movie file for fast sharing.
Based on advanced, special designed SSCV2 codec, SCREEN2EXE may have the highest compression ratio in the world.
The output file size is far smaller than other screen recorders. A smaller file is very important when you want to share your demo via internet.
Best quality and Scalable settings. SCREEN2EXE allow you set quality from lossless true color mode to lossy grayscale mode,
which help get best trade-off between quality and file-size. In default, the output quality of SCREEN2EXE,
especially for those photos on screen, is the best compare to other screen recorder which only output 256 colors.
File Size:440KB
Language:English
OS:Win2000/XP/2003/Vista

Clean My Registry
The Windows Registry is a crucial part of your PC's operation system. Regular use of computer makes the registry fragmented
and cluttered with obsolete and invalid data. Clean My Registry software keeps this critical part of your PC in perfect condition.
Just clean registry in a blink of an eye. The software has a unique feature of monitoring the Windows registry during installation
and un-installation of software that helps you to control your PC Windows registry.
Version: 4.4
Price: Free
Operating Systems: Windows 2000, Windows XP
Go to the download page now:
Clean My Registry
Flock 1.0 Beta
I'm so impressed with this beta that I've done something I didn't see myself anytime soon:
I've dumped Firefox as my primary gateway to the Web. For now, I'm using Flock as my default browser
on both my desktop Vista machine and my MacBook portable, and thoroughly enjoying the experience.
Two years ago, when the Flock people started talking about the notion of a social browser,
they might have been a little ahead of their time. Today, the whole dang Web has a heavy social bent,
and this current version of Flock is significantly different and better than the one I tried back in 2005.
A few of the features that make Flock a strikingly different browser from IE, plain-vanilla Firefox,
or Opera include integration with Facebook, Flickr, and YouTube; a Web clipboard; blogging features;
and better RSS and bookmarks.
Version: 1.0 Beta
Price: Free
Operating Systems: Windows 2000, Windows XP, Windows Vista
Go to the download page now:
Flock 1.0 Beta
DesktopXrganizer - Freeware
Organize your desktop by categorizing your desktop files into folders.
OS: Windows NT/2000/XP/2003 Server/Vista WISeCrypt - Freeware
Encrypt and decrypt files using WISeKey certificates.
OS: Windows 2000/XP/2003 Server/Vista
CodecInstaller Free
Can't figure out why some videos won't play on your PC? This free utility checks your system
and tells you which codecs (programs needed to view videos) are missing.
Then it suggests safe, reliable download sources
Version: 2.7.0
Price: Free
Operating Systems: Windows 2000, Windows XP, Windows Vista
Go to the download page now:
CodecInstaller

DevCon Free
If a USB driver insists on reinstalling when you reboot, try Microsoft's free device-management tool
for XP and Vista. DevCon will erase all of your USB device drivers, making your PC just like new.
Then it will scan to relocate the devices and reinstall their drivers. This program is not for people who think
"hash code" is something to eat with fried eggs. Back up your PC first:
This trick can restore a sick system to health, but it can also flatline it.
Version: 5.0
Price: Free
Operating Systems: Windows XP, Windows Vista
Go to the download page now:
DevCon
Adblock Plus Free
This is one of the most popular Firefox add-ons, and for good reason.
CPU-Z 1.42 Free
CPU-Z is a diagnostic tool that provides information on your CPU, including: processor name and vendor,
core stepping and process, processor package, internal and external clocks, clock multiplier, partial overclock detection,
processor features, supported instructions sets, L1 and L2 cache information, location, size, speed, and technology.
RegToy 0.542 Free
RegToy is a useful program that was designed for WindowsXP , is used to Tweak WindowsXP ,
and some utilities like a renamer to change the filenames and a wallpaper changer.
With RegToy you can optimize the performance of your computer and customize your system to suit your needs.
Editors Note:: The original language of this program is in Vietnamese, you can select English after you first run the application.
File Size:1074KB
Language:Multilingual
OS:Win2000/XP/2003
High Quality Photo Resizer 4.20 Free
Quality Photo Resizer is an easy-to-use freeware for batch resizing of digital photos.
With High Quality Photo Resizer you may make high quality small photos for publication on the internet
or to send to friends and family. This software offers two methods for you to choose to resize the photo -
Normal and Enhanced. It's freeware but it supports many input formats: BMP, DIB, EMF, GIF, ICB, JPG,
JPEG, PBM, PCD, PCX, PGM, PNG, PPM, PSD, PSP, RLE, SGI, TGA, TIF, TIFF, VDA, VST, WBMP, WMF.
And it supports 4 output formats: JPG, BMP, TIF and TGA.
File Size:746KB
Language:English
OS:Win2000/XP/2003
AutoIt 3.2.10 Free
AutoIt is a simple tool that can simulate keystokes, mouse movements and window commands
(maximize, minimize, wait for, etc.) in order to automate any windows based task (or even windowed DOS tasks).
It was primarily designed to assist in automatically installing software that cannot be automatically installed by other means.
This is most useful during a PC rollout where hundreds or thousands of client machines need to be automatically installed. However,
it is not limited to software installation and can be used to automate most simple windows tasks.
File Size:6719KB
Language:English
OS:Win2000/XP/2003
Free Download Manager v2.5.729 Free
Free Download Manager (FDM) is a full-featured freeware downloading program.
It allows you to download files and whole web sites from any remote server via HTTP, HTTPS and FTP.
File Size:5604KB
Language:English OS:Win2000/XP/2003/Vista
Ashampoo ClipFinder 1.25 Free
The Ashampoo ClipFinder proves to be very future-proof with all of its activities.
Through an update function, it is possible at any time to expand the program by further video portals.
File Size:2561KB
Language:English
OS:Win2000/XP/2003
Pidgin 2.30 Free
Pidgin is a multi-protocol Instant Messaging client that allows you to use all of your IM accounts at once.
Pidgin can work with:
AIM, Bonjour, Gadu-Gadu, Groupwise, ICQ, IRC, MSN, QQ' SILC, SIMPLE, Sametime, XMPP,
Yahoo!, Zephyr
File Size:12098KB
Language:English
OS:Win2000/XP/2003
FileZilla v3.0.4 Free
FileZilla is a open source, powerful FTP-client for Windows 9x, ME, NT4, 2000 and XP.
It has been designed for ease of use and with support for as many features as possible,
while still being fast and reliable.
File Size:2884KB
Language:Multilingual
OS:Win2000/XP/2003
Mozilla Firefox 2.0.0.10 Free
Firefox is a free, open-source web browser for Windows, Linux and Mac OS X
and is based on the Mozilla codebase. It is small, fast and easy to use,
and offers many advantages over Internet Explorer, such as the ability to block pop-up windows.
File Size:5884KB
Language:English OS:Win2000/XP/2003/Vista
Locate 3.0.7.11250 Free
Locate saves names of all files in your hard drives to file database. After that you can locate files.
This program works like updatedb and locate in Unix systems. Win32 based locating program also included.
File Size:815KB
Language:English
OS:Win2000/XP/2003
FireFTP Free
This is a free, secure, cross-platform FTP client for Mozilla Firefox which provides easy and intuitive access to FTP servers.
Version 0.94.2 adds the ability to keep directories in sync and greatly improved drag-and-drop support.
[133.39K] [Win98/ME/NT/2k/XP/Vista]
SG TCP Optimizer Free
No matter how fast your broadband connection is, it's not fast enough. There's nothing you can do to get your ISP
to juice up the bandwidth, but you can do something to make the most out of what you've got. This free program will tweak
various connection settings to help you get a faster, smoother connection. At first glance, the program is daunting,
because of the amount of technical detail you appear to need to know in order to use it, such as Latency, Largest MTU,
and so on. Your best bet is to click the Optimal settings button at the bottom of the screen, and then click Apply changes.
That way, the program decides on its own the best settings and applies them. Unless you're very experienced,
you probably don't want to muck around with the settings yourself.
Version: 2.0.3
Operating Systems:
Windows 9.x, Windows Me, Windows XP, Windows Vista
GOM Player Free
GOM Player might very well be the most hassle-free and full-featured freeware media player available.
The player boasts several unique features--including support for a wide range of video file formats and built-in video
and audio codecs that permit you to play video files encoded in the most popular formats without having to download
additional files--as well as a codec finder that points you to download sites for the few encoding formats
the program doesn't natively support.
Version: 2.1.8.3683
Operating Systems:
Windows NT, Windows 98, Windows 2000, Windows Me, Windows XP, Windows Vist
Back up changes to folders, network location or FTP site.
OS: Windows NT/2000/XP/2003 Server/Vista

Secure FTP client for Firefox which provides easy and intuitive access to FTP servers.
OS: Windows 98/Me/NT/2000/2003/XP
7art Santa Claus Clock ScreenSaver - Freeware
Watch Santa as he busily sorts and prepares Christmas gifts on your desktop screensaver.
OS: Windows 95/98/Me/NT/2000/XP/2003 Server

1Click Time Synchronizer - Freeware
Synchronize system time on your PC with highest precision atomic clock servers.
OS: Windows (all)

Records all activity on a computer and sends reports to any email address.
OS: Windows 98/Me/NT/2000/XP/Vista

Street Challenge - Extreme Velocity - Freeware
Play an authentic online multiplayer 3D drag racing simulator, experiencing hair raising burnouts in realistic 3D.
OS: Windows 98/2000/XP/2003 Server/Vista

Display a clock with the time in binary system.
OS: Windows (all)
Reverse Cell Phone Search - Freeware

Perform reverse cell phone number search and receive information about it.
OS: Windows 95/98/XP/Vista
Simple Net Speed - Freeware Improve your broadband connection to get more efficiency.
OS: Windows 2000/XP/Vista
Advanced WindowsCare Personal - Freeware

Slow downs, freezes, crashes and security threats are over. Advanced WindowsCare Personal
is a comprehensive PC care utility that takes an one-click approach to help protect, repair, and optimize
your computer. It provides an all-in-one and super convenient solution for PC maintenance and protection.
All work will be done with 1 click and 1 minute.
OS: Windows 2000/XP/Vista
Highly Recommended FREE Software


avast! Home Edition Free
Why choose a high-priced subscription antivirus program that bogs down your PC while protecting it, when avast! can do it better?
avast! is one of the few free antivirus applications that does as good a job as any of the big boys.
avast! includes more than seven different kinds of shields, safe-surfing tools, and real-time virus protection for your OS, as well as Outlook.
avast! updates automatically and frequently and, avast! works with both Windows Vista and XP.
avast! gives you all this, in the free (Not for commercial use) version. More options are available in the Pro version.
avast! requires a simple on-line registration during or after the 60 day trial period to continue uninterupted updates.
avast! has been my anti-virus program for the past 3 years.
Version: 4.7.1083
Price: Free
Operating Systems: Windows XP, Windows Vista Go to the download page now:
avast! Home Edition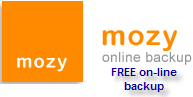 mozy Free Safe Secure online back-up
I use this every day to keep my important files safe.

Giveaway of the Day


Thanks to ZDNet, PCWorld , Lockergnome.com and many other sources for this nice collection.
You'll find more FreeWare at MySharedFiles