FreeWare 12-07-07
Tinseltown
This is a Firefox Christmas theme with holiday imagery including Christmas lights, snow, reindeer, presents, and more.
This theme is made even better with great Christmas icons from Watiworks and a semi-transparent URL bar. Get in the holiday spirit.
[833K] [Win2k/XP/Vista + Firefox] [FREE]
MSConfig Cleanup 1.5 Free
MSConfig is a small and helpful tool. It allows you disable programs which are starting with Windows.
Unfortunately you can only disable items but they remain in the list.
MSConfig Cleanup lets you remove the residue!
Language:English
OS:Win2000/XP/2003/Vista
Wise Registry Cleaner 2.96 Free
Wise Registry Cleaner is a free and one of the safest Registry cleaning tools available in the market today.
Its scanning engine is thorough, safe and fast.
Wise Registry Cleaner scans the Windows registry and finds incorrect or obsolete information in the registry.
By fixing these obsolete information in Windows registry, your system will can work better and more quickly.
After Wise Registry Cleaner analyzes your system for problems, you can individually view each of the problems found
and call up a detailed description. If you wish, you can also have all problems corrected automatically.
All changes to your system are monitored by Wise Registry Cleaner and can be undone with a few mouse clicks.
File Size:1063KB
Language:English
OS:Win2000/XP/2003/Vista
PDF-XChange Viewer 1.030 Free
PDF-XChange Viewer is an alternative viewer for PDF files that enables you to view and annotate PDF files.
You can add text, sticky notes, and other annotations and save them to the file, which will be compatible with
the standard Adobe PDF reader. The program also includes a handy loupe tool to zoom in on selected areas of a document,
as well as options to extract text and images, export a documents to image formats, and more.
PDF-XChange Viewer offers a modern, tabbed interface and an attractive set of features not commonly found in free PDF viewers.
File Size:13507KB
Language:English
OS:Win2000/XP/2003/Vista
UpdateStar 1.1.246 Free
UpdateStar scans your computer for installed software products and produces a list of your inventory and available updates,
along with download link and additional information. The program not only works with widely used commercial products,
but also with many freeware and shareware programs available from the web. UpdateStar runs in the system tray and can automatically
check for updates on a daily, weekly or monthly basis. You can customize the list of products and choose to ignore updates
from certain products. The update database is maintained by the developer and accepts input from users to help improve the accuracy.
The current version recognized about half of the 50 products we had installed, so there is definitely room for improvement.
Overall, however, this is a very promising product.
File Size:3898KB
Language:English
OS:Win2000/XP/2003/Vista
RemoveIT Pro XT - SE Free
Locate & remove many new dangerous files including viruses, worms, trojan horses,
adwares & spywares that other popular AV programs cannot find. RemoveIT Pro. Version XT - SE
has detail report log added including services and full startup files. Service manager added.
Runtime & Process Manager added. Some bug fixed.
File Size:1694KB
Language:English
OS:Win2000/XP/2003
Speed up your PC with these Free tools
CCleaner Remove useless files from several applications, including Microsoft apps.
Eusing Free Registry Cleaner Clean up your Registry to keep your PC in tip-top shape.
Cleanup Assistant Simple free program for doing basic hard disk cleaning.
SG TCP Optimizer Speed up your broadband connection.
PDF SpeedUp Speed up Adobe Acrobat Reader.
Creativity Software Free
PhotoPlus Edit and enhane your digital images and photos for print, email and the web.
PagePlus Get into desktop publishing.
WebPlus Design and publish stunning websites - no HTML experience required!
DrawPlus All the power and tools you need to create attention-grabbing logos, striking artistic masterpieces.
3DPlus Can help you add a new dimension to your website graphics.
FinalBurner 1.25 Free
FinalBurner is a freeware alternative to expensive CD and DVD burners. This application enables you to create data,
audio, DVD disks and burn them onto any type of media, such as CD R/RW, DVD+R/RW, DVD-R/RW, DVD DL.
You can also create an ISO image of a disk. It combines all the elements of a professional CD recorder,
delivered with a convenient user interface that pleases the eye. It is designed without any extraneous features.
It restricts the complex process of CD recording to a few mouse clicks, which is ideal for typical users.
Now you can produce high quality output on the fly without any deep knowledge of CD recording technologies.
Power users will benefit from the opportunity to be in full control of many settings that affect the burning process and the quality of the result.
File Size:8301KB
Nero General CleanTool 2.2.0.11 Free
Use Nero General Clean Tool to uninstall Nero or Nero related software
In some cases it can occur that you have to uninstall Nero or Nero related software (i.e. InCD...).
Please use Nero General Clean Tool to do that and afterwards download and install the latest version of our software you were using.
Go to the download page now:
General-CleanTool.zip
Shareaza 2.3.0.0
Free
Shareaza is a spyware free, open source P2P file-sharing client that connects to four modern networks:
G2, Gnutella, eDonkey2000, and BitTorrent.
File Size:5120KB Language:English
OS:Win2000/XP/2003/Vista Date added: 4,2007
PhotoOnWeb 0.7.0.2
Free
PhotoOnWeb is a software to create your own photo album with digital pictures and host it on the internet.
The software offers quick and easy creation and customization of the album (more than 20 different templates
to match the theme of your pics). Sort your photos in multiple albums, pick a template and click on the Publish button.
It does it all for you, resizes the photos, builds the website and publishes it on the Internet.
File Size:5999KB
Language:English
OS:Win2000/XP/2003
Process Explorer Free
This is an advanced process management utility that picks up where Task Manager leaves off.
It will show you detailed information about a process including its icon, command-line, full image path, memory statistics,
user account, security attributes, and more. When you zoom in on a particular process you can list the DLLs it has loaded
or the operating system resource handles it has open. A search capability enables you to track down a process that has a resource opened,
such as a file, directory, or registry key, or to view the list of processes that have a DLL loaded.
[1.54M] [Win95/98/ME/NT/2k/XP/Vista] [FREE]
Loki for Internet Explorer - Freeware
Turn your Wi-Fi-enabled laptop into a virtual GPS device.
KeyTweak
Are you and your keyboard experiencing a communication breakdown? You need KeyTweak,
a free keyboard-remapping tool that arranges the keys as they make most sense for you.
The program modifies Windows Scancode Map Registry settings. Note: To use KeyTweak in Vista,
you have to be logged in as an Administrator.
Version: 2.2.0
Price: Free
Operating Systems: Windows NT, Windows 2000, Windows XP
Go to the download page now:
KeyTweak
Copernic Desktop Search Free
This brings a search engine right to your PC and allows you to instantly search files, e-mails,
and e-mail attachments stored anywhere on your PC hard drive. The application executes subsecond searching
of Microsoft Word, Excel, and PowerPoint files, Acrobat PDFs, all popular music, picture, and video formats,
contacts, the browser history, and favorites.
Version 2.2 build improves clear index and reindex all features.
[5.43M] [Win98/ME/NT/2k/XP/Vista] [FREE]
freeCommander Free
Navigating a modern computer's directory tree is a daunting task, and the standard Windows file explorer
is barely up to the task. FreeCommander offers a powerful, and free, replacement program.
The main window is split into two panes, each of which shows a directory view. This makes it very easy to copy
or move files. Further, FreeCommander provides directory comparison and synchronization functions,
as well as the ability to customize columns in the 'detail' view. Other features include the ability to specify
the font used for different parts of the view, as well as coloring specific file types--
if you want all your Excel files to be bright green, they can be.
Version: 2007.10
Price: Free
Operating Systems: Windows 2000, Windows XP, Windows Vista
Go to the download page now:
freeCommander

Display authentic fonts and original effects from the Matrix movie.
OS: Windows 98/2000/XP
Videora iPhone Converter - Freeware
Convert videos for free for your iPod, iPod Touch, and iPhone.
OS: Windows 2000/XP/Vista
OxygenOffice Professional - Freeware
Add templates, clip art, samples, and fonts to OpenOffice.org.
OS: Windows 2000/XP
ZeroSpyware Limited Edition - Freeware

Identify and remove browser hijackers, adware, dialers, and commercial surveillance software.
OS: Windows 98/Me/2000/XP
Protect your instant messages from being monitored.
OS: Windows 98/Me/2000/XP
Protect and control your email, passwords and important files.
OS: Windows 2000/XP/Vista
Monitor, lock, and unlock access of client computers in your network to the Internet.
OS: Windows NT/2000/XP/2003 Server
Make your download four times faster, and resume your broken download.
OS: Windows 98/Me/NT/2000/XP/2003 Server
Save your time by getting rid of all those programs that load at start-up.
OS: Windows 98/Me/NT/2000/XP/2003 Server/Vista
Instant Memory Cleaner - Freeware
Clean physical memory and trim size of running processes working sets.


OS:

Windows XP/Vista

Advanced WindowsCare Personal - Freeware

With WiseSurfer's Elite Diagnostic Utility you will be able to diagnose and fix problems with your PC
such as slow bootups, pop up ads, and error messages. Easy to use and fast! Perfect for users
who are having problems but don't know much about the technical aspect of computers.
OS: Windows (all)
VistaMizer 2.11 Free
VistaMizer - Give your Windows XP the Vista look!
VistaMizer modifies your system files, so that when you reboot after installing VistaMizer,
you won't even remember how your old desktop looked like.
7-zip 4.57
Free

7-Zip is open source software. Most of source code is under GNU LGPL license.
AES code is under BSD LICENSE. unRAR code is under mixed license:
The main features of 7-Zip
High compression ratio in new 7z format with LZMA compression
Supported formats:
Packing / unpacking: 7z, ZIP, GZIP, BZIP2 and TAR
Unpacking only: RAR, CAB, ISO, ARJ, LZH, CHM, Z, CPIO, RPM, DEB and NSIS
For ZIP and GZIP formats 7-Zip provides compression ratio that is 2-10 % better than ratio provided by PKZip and WinZip
Self-extracting capability for 7z format
Integration with Windows Shell
Powerful File Manager
Powerful command line version
Plugin for FAR Manager
Localizations for 63 languages
File Size:840KB Language:English
OS:Win2000/XP/2003/Vista
Multiple Image Resizer .NET 2.0.8.0
Free

Multiple Image Resizer .NET is an easy to use and attractive image processing tool, that allows you to process individual images
or entire folders of images at once. You can resize, crop, add borders, overlay text and/or rotate and flip images and dynamically
preview the results for each. The processed files are saved to a new, user-specified directory and can optionally be renamed to a
combination of the original name and/or numbers. The program handles a variety of input and output image formats including
BMP, JPG, GIF, TIFF, EXIF, PNG, EMF, ICO and WMF and allows you to convert the images at the same time they are processed.
Very nice program, with a clean interface and good documentation.
File Size:9692KB Language:English
OS:Win2000/XP/2003/Vista
and settings that allow you to optimize your machine and tweak it to your needs. The set of features include desktop customization,
Internet Explorer tweaks, CPU cache tweaks, CD/DVD drive performance tweaks and much more. The program also includes EasyBCD,
a Vista Boot Configuration Manager that enables you to configure the Vista Bootloader. Other features include Firefox optimization (FireTune),
wallpaper randomizer, system information, Outlook/Windows Mail tweaks and more.
A commercial version is also available that offers additional features.
File Size:12277KB
Language:English OS:Vista
Highly Recommended

FREE

Software
avast! Home Edition Free
Why choose a high-priced subscription antivirus program that bogs down your PC while protecting it, when avast! can do it better?
avast! is one of the few free antivirus applications that does as good a job as any of the big boys.
avast! includes more than seven different kinds of shields, safe-surfing tools, and real-time virus protection for your OS, as well as Outlook.
avast! updates automatically and frequently and, avast! works with both Windows Vista and XP.
avast! gives you all this, in the free (Not for commercial use) version. More options are available in the Pro version.
avast! requires a simple on-line registration during or after the 60 day trial period to continue uninterupted updates.
avast! has been my anti-virus program for the past 3 years.
Version: 4.7.1083
Price: Free
Operating Systems: Windows XP, Windows Vista
Go to the download page now:
avast! Home Edition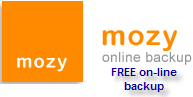 mozy

Free

Safe

Secure

online back-up


I use this every day to keep my important files safe

.


Thanks to
ZDNet
,
PCWorld
,
Lockergnome.com
and many other sources for this nice collection.
You'll find more FreeWare at MySharedFiles