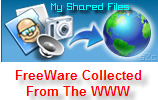 FreeWare 02-01-08
PDF-XChange Viewer 1.0 Build 0033 Free
The FREE PDF-XChange Viewer offers all the feature´s you would expect such as support of all PDF file formats
from Version 1.0 all the way to the latest 1.7 (Acrobat 8). You might be surprised just how quickly your large
PDF files open and pages smoothly refresh as they are scrolled.
MagicDisc 2.5.79 Free
It is a very helpful utility designed for creating and managing virtual CD drives and CD/DVD discs.
For anyone who deals with CD-based programs – it is a MUST. MagicDisc allows you to use almost all CD/DVD image
without burning them onto CD or DVD in order to easily access your favorite games, music, or software programs ----
It works like a real CD/DVD-ROM: You can run programs, play games, or listen to music from your virtual CD-ROM.
Flock 1.0.8
Free

Flock is a free web browser that makes it easy to connect with your friends and express yourself online.
Flock is easy-to-use web browser heavily based upon fast and secure Mozilla Firefox and other Mozilla technologies.
Upload photos, get your news, blog anything, subscribe to RSS and search your world with Flock.
Flock makes it easier than ever for you to connect with your friends.
Click here to download
Norton Removal Tool 2008.0.2.17
Free

Norton Removal Tool is a program that can remove some Norton software from your computer. Norton Removal Tool
runs on Windows 2000/XP/Vista. Norton Removal Tool should be used only if you have tried to uninstall the Norton program
using Windows Add/Remove Programs and that did not work.
Norton Removal Tool will remove these--and only these--Norton programs:
- Norton AntiSpam 2004/2005
- Norton AntiVirus 2003 through 2007.2
- Ghost 2003, Ghost Version 9.0 and 10.0
- Norton GoBack 3.1 through 4.2
- Norton Internet Security 2003 through 2007.2
- Norton Password Manager
- Norton Personal Firewall 2003 through 2006
- Norton SystemWorks 2003 through 2007
- Norton Confidential Online 2007
- Norton Internet Security Add-on Pack
- Norton Save and Restore 1.0
- Norton 360
Click here to download
VirusTotal Uploader V.1.0 Free
Sometimes you need to check out a file before dare to open it. For those occasions,
VirusTotal.com's free online service is invaluable. VirusTotal.com scans files with dozens of security programs
to check for viruses and other malware. The VirusTotal Uploader adds a one-click mechanism to Windows's
context menu to make this process even easier.
File Size: 77k
Operating Systems: Windows XP, Windows 2000
Go to the download page now:
VirusTotal Uploader

FTP Wanderer 2.8.1
Free
FTP Client with the look and feel of Windows Explorer.
FTP Wanderer is a multithreaded FTP client with the look-and-feel of Windows Explorer,
and makes moving files between the Internet and your computer as simple as local file manipulation.
* Full drag and drop support from and to Windows Explorer.
* Connection wizard.
* Upload/download multiple files simultaneously.
* Fully customizable user interface.
* CERN proxy support.
* Bookmark remote folders (Favorites).
* Resume support for download and upload.
* Sophisticated transfer manager where uploads and downloads are performed in the background
so you can continue browsing while the application up or downloads your files.
* Download/Upload complete directory structures (including files) in one operation.
* Windows 9x/XP style right-click menus.
* Intergrated local file browser for easier file management.
* CHMOD support for changing permissions on UNIX servers.
* Support for very large files (64 bits)
* Move files and folders to another location on the server.
Click here to download
Adobe Shockwave Player 10.3.0.024
Free

Adobe (formerly Macromedia) Shockwave Player is the web standard for powerful multimedia playback.
Shockwave Player allows you to view interactive web content like games, business presentations, entertainment,
and advertisements from your web browser. You can enjoy multimedia games, learning applications, streaming audio,
interactive animation and product demonstrations on the Web, using exciting new 3D technology.
Click here to download
GreenBrowser 4.4 Build 0129
Free

GreenBrowser is your best choice of easy and powerful web browse software! GreenBrowser is free to download and use.
GreenBrowser is a multiple windows browser. It is based on I and has a lot powerful features, such as:
Quick Key, Collector, Mouse Gesture, Mouse Drag, Ad Filter, Search Engine, Page Back Color, Toolbar Skin, Proxy, Tab Bar,
Auto Scroll, Auto Save, Auto Fill Form, Start Mode, Auto Hide Bar, Mouse Drag Drop, etc.
• Search Engine
You can search something direct in browser: news, mp3, hardware, software, stock and so on.
You also can add your search engine to engine list.In search bar, you can search keyword by search engine,
highlight keyword, find keyword in page. Search bar can save your keyword in a list.
• External Toolbar
You can add some frequently use programs link in external toolbar by "Set External Toolbar...".
After that you can set the program "Auto Start with GreenBrowser" or "Auto Close with GreenBrowser".
• Tab Bar
Tab bar icon show the state of page: blank page? finish download? read or not? locked? protected? saved?
Click here to download
Kantaris Media Player 0.3.2
Free

Kantaris Media Player is the all-in-one media player that provides the best audio and video experience.
Kantaris is an open-source alternative to Windows Media Player with similar GUI and features.
Video playback is based upon Videolan Client (VLC) which enables Kantaris to play almost anything you throw at it
without the need of installing any codecs. Unlike VLC, Kantaris also has extensive support for music and other audio formats,
these include MP3, WMA, OGG, MIDI, AC3, AAC, MP4 and FLAC.
Kantaris Media Player can play almost anything you can throw at it - AVI, MPEG, MGEG-AVC, WMV, MOV, MKV,
quicktime, matroska, divx, xvid, H264, MP3, WMA, OGG files and more. It can also play DVD's and audio cd's.
The player also displays some of the most beautiful music visualizations ever seen.
Kantaris is an all new media player based on code from Videolan client (VLC) and Bass audio library.
Kantaris has a graphical user interface similar to that of Windows Media Player.
Works with Windows 2000, XP and Vista.
Click here to download
Roxio Media Ticker v2.1 Free
Once you've got your photos what can you do with them? If you'd like to create a sliding image show of them
that scrolls across your desktop, or share them with others using the photo-sharing site Flickr,
you'll want to try out this software. It creates a ticker-style scrolling bar that you can put at a variety of places on your desktop,
to display images. The images can be photos from your hard disk, from RSS feeds, or photos of yours from
the photo-sharing site www.flickr.com. Hover your mouse over any image to see a description of it. Double-click an image,
and it will appear in window displaying the photo larger. From here you can print it, email it, rotate it, or set it as your
desktop background, among other options.
File Size: 8064k
Operating Systems: Windows Vista, Windows XP
Go to the download page now:
Roxio Media Ticker

Vista4Experts v 1.0.0.1 Free
This simple freebie makes it easy to customize many Vista features, via a simple interface.
You'll be able to change the behavior of Windows Updates, User Account Control, the power button,
Internet Explorer, and other Vista features. There's nothing big or dramatic here, but the program is free,
and lets you easily customize Vista without having to dig through menus and dialog boxes, so it's worth a try.
File Size: 286k
Operating Systems: Windows VistaGo to the download page now:
Vista4Experts

BOINC v 5.10.30 Free
Here's a chance to dress up your PC, and do some good for science as well. This screensaver takes idle cycles on your PC
and uses them to perform processing for a variety of scientific projects. You'll be able to choose and switch among numerous projects,
including those to control malaria, search for extra terrestrial life in the universe, help with medical research, and many others.
File Size: 70600k
License Type: Free
Operating Systems: Windows Vista, Windows XP, Windows 98
Go to the download page now:
BOINC
RapidTyping Typing Tutor 1.3.1.2 - Freeware

Learn quick and blind keyboard typing with a keyboard emulator.
OS: Windows 2000/XP/Vista

Evonsoft Computer Repair - Freeware
Repair and clean your PC to make your system stable and fast.
OS: Windows/2000/XP/2003 Server/Vista

Crawler 3D Fireplace Screensaver - Freeware
View a 3D fireplace with realistic sounds of a crackling fire and burning wood.
OS: Windows (all)
Find all possible words, using the letters on the rack and the letters on the Scrabble board.
OS: Windows 95/98/Me/NT/2000/XP/Vista

Compress and extract files and folders.
OS: Windows 98/Me/NT/2000/XP/2003 Server/Vista

Send e-mail and instant messages and call your GoogleTalk friends.
OS: Windows 2000/XP/Vista
Any Video Converter v 2.5.7 Free
Any Video Converter is an All-in-One video converting tool with easy-to-use graphical interface,
fast converting speed and excellent video quality. It allows you to effortlessly convert video files between every format, for FREE!
It can convert almost all video formats including DivX, XviD, MOV, rm, rmvb, MPEG, VOB, DVD, WMV, AVI to MPEG-I,
MPEG-I, DVD NTSC , DVD PAL, Flash for Video (FLV) , AVI Video and Customized WMV movie formats.
Any Video Converter makes it easy for anyone to enjoy any format video with your PSP, mobile phone or MP4 player.
It also supports any user defined video file formats as the output. It has an unmatchable speed and high quality.
Size: 13,9 MB
Resistor Colour Code Solver - Freeware
Calculates the resistor value from its colour code and vice-versa.
OS: Windows (all)

Supreme Shutdown Scheduler - Freeware
Automate PC shut down, reboot, or log off functions.
OS: Windows 95/98/Me/NT/2000/XP/2003 Server/Vista
Manage and store your bookmarks in your Google GMail account.


OS:

Windows NT/2000/XP/2003 Server
Highly Recommended

FREE

Software
avast! Home Edition Free
Why choose a high-priced subscription antivirus program that bogs down your PC while protecting it, when avast! can do it better?
avast! is one of the few free antivirus applications that does as good a job as any of the big boys.
avast! includes more than seven different kinds of shields, safe-surfing tools, and real-time virus protection for your OS, as well as Outlook.
avast! updates automatically and frequently and, avast! works with both Windows Vista and XP.
avast! gives you all this, in the free (Not for commercial use) version. More options are available in the Pro version.
avast! requires a simple on-line registration during or after the 60 day trial period to continue uninterupted updates.
avast! has been my anti-virus program for the past 3 years.
Version: 4.7.1098
Price: Free
Operating Systems: Windows XP, Windows Vista
Go to the download page now:
avast! Home Edition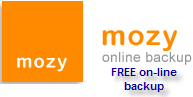 mozy

Free

Safe

Secure

online back-up


I use this every day to keep my important files safe

.


Check out Giveaway of the Day


Thanks to
ZDNet
,
PCWorld
,
Lockergnome.com
and many other sources for this nice collection.
You'll find more FreeWare at MySharedFiles