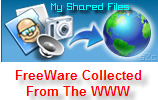 FreeWare 02-29-08
This is an abbreviated version due to a power surge
which destroyed
the power supply on my main computer.
WildVoice Studio v12.0.0.49974 Free
You don't need a professional recording studio to immortalize your brilliant thoughts and dulcet tones.
All you need is a free program called WildVoice Studio.
File Size: 25931k
Operating Systems: Windows XP
Go to the download page now:
WildVoice Studio
Lyricsnapper - Freeware
Update song information and retrieve lyrics from the Internet.
OS: Windows 2000/XP/Vista
Twister MP3 - Freeware
Find and download MP3 files using P2P programs.
OS: Windows 98/Me/2000/XP/Vista
Password Recovery Software - Freeware
View passwords in asterisks and recover your MS office and login passwords.
OS: Windows 3.x/95/98/Me/NT/2000/XP/2003 Server
ImgBurn v2.4.0.0
Free
This is a lightweight CD / DVD / HD DVD / Blu-ray burning application that everyone should have in their toolkit!
Downloads available here
.
Folder2Iso
Free
This program
creates an iso from any kind of folder (with the subfolders).
Its a GUI of mkisofs.
No need of installation , really small exe.
Some of you can say : "What is the point of this tool? Seems useless."
Well dvddecrypter/imgburn can burn cd/dvd for free so if you make an iso easily you can burn your movies on cds/dvd for free.


Highly Recommended

FREE

Software
avast! Home Edition Free
Why choose a high-priced subscription antivirus program that bogs down your PC while protecting it, when avast! can do it better?
avast! is one of the few free antivirus applications that does as good a job as any of the big boys.
avast! includes more than seven different kinds of shields, safe-surfing tools, and real-time virus protection for your OS, as well as Outlook.
avast! updates automatically and frequently and, avast! works with both Windows Vista and XP.
avast! gives you all this, in the free (Not for commercial use) version. More options are available in the Pro version.
avast! requires a simple on-line registration during or after the 60 day trial period to continue uninterupted updates.
avast! has been my anti-virus program for the past 3 years.
Version: 4.7.1098
Price: Free
Operating Systems: Windows XP, Windows Vista
Go to the download page now:
avast! Home Edition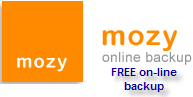 mozy

Free

Safe

Secure

online back-up


I use this every day to keep my important files safe

.

Check out:
Giveaway of the Day

Thanks to ZDNet, PCWorld , Lockergnome.com and many other sources for this nice collection.

You'll find more FreeWare at MySharedFiles
Labels: Baylor, bob3160, clouds, Dallas, Free, freeware, giftoflife, Meadow Lake, MySharedFiles, reunion, Software, sunset, transplant, weekly