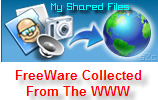 FreeWare 05-02-08
Sentry Lite Free
This free monitoring software that offers parents and computer administrators the ability to monitor both sides
of instant message conversations and Web sites visited without the user ever knowing. A special spy technology
engine keeps Sentry hidden from all users, anti-spyware, and firewall software.
You can review all of your logs from any Internet-enabled device by visiting the program's site and logging in.
[1.63M] [WinXP/Vista]

Recuva version 1.13.304
Free

Recuva (pronounced "recover") is a freeware Windows utility to restore files that have been accidentally deleted from your computer.
This includes files emptied from the Recycle bin as well as images and other files that have been deleted by user error from digital camera
memory cards or MP3 players. It will even bring back files that have been deleted by bugs, crashes and viruses!
* QuickTime Alternative Free
QuickTime is a common format, but QuickTime's player is huge. Avoid that space hog by watching your QuickTime files in QuickTime Alternative.
Visit the QuickTime Alternative page
* Real Alternative
Free

Many audio and video files are offered only in Real Networks' formats. If you like the files, but you don't like being tied to Real,
you may prefer Real Alternative
Visit the Real Alternative page


CCleaner 2.07.575
Free

CCleaner is a freeware system optimization and privacy tool. It removes unused files from your system -
allowing Windows to run faster and freeing up valuable hard disk space. It also cleans traces of your online activities such as your Internet history.
But the best part is that it's fast (normally taking less than a second to run) and contains NO Spyware or Adware!
Click here to get your copy
(Choose the "Slim" version")
iEx v 0.1 Free
On a Mac, hit and a little feature called Expos arranges all your open application windows as thumbnails spread neatly across your screen.
Click one and it'll pop to the front of the pack while the rest snap back into position behind it. To get these functions in Windows,
you need to add a download. One little tool called iEx for Windows does the trick for free.
File Size: 420k
Operating Systems: Windows XP
Go to the download page now:
iEx
YPOPs! 0.9.6 Alpha 1
Free

YPOPs! is a free open source software that provides POP3 and SMTP access to Yahoo! Mail. You can use your favourite email client,
be it Outlook, Thunderbird, or whatever else you like and connect to Yahoo! Mail seamlessly. How do we do it you ask?
Well, this application is more like a gateway. It provides a POP3 server interface at o­ne end to talk to email clients and an HTTP client (browser)
interface at the other which allows it to talk to Yahoo! The same concept holds good for SMTP as well.
Download from here now:

http://yahoopops.sourceforge.net/ypops-win-0.9.6.exe
IObit SmartDefrag Beta 5.01
Free

Features of this powerful, award-winning defragmenter program include:
An "Install It and Forget It" feature that works automatically and quietly in the background on your computer.
The ability to constantly keep your hard drive safe, error-free and running at its top speed and optimum performance.
Eliminates slow downs, freeze-ups and crashes.
IObit SmartDegrag is 100% FREE award-winning software that's for personal, home and small business.
100% safe from any spyware, adware and virus. .
Operating Systems:
Windows Vista, XP, and 2000
Download from here now:

http://www.iobit.com/files/DefragSetup.exe
SIV (System Information Viewer) 3.30
Free

System Information Viewer is a general Windows utility for dumping lots of useful Windows, Network and hardware info -
CPU info, PCI info, USB info, Machine Info, Hardware Sensors, Networked computers, Operating System Information and more.
File Size:1183KB Language:English
OS:Win2000/XP/2003/Vista
Clean My Registry v. 4.5 Free
The Windows Registry is a crucial part of your PC's operation system. Regular use of computer makes the registry fragmented
and cluttered with obsolete and invalid data. Clean My Registry software keeps this critical part of your PC in perfect condition.
Just clean registry in a blink of an eye. The software has a unique feature of monitoring the Windows registry during installation
and un-installation of software that helps you to control your PC Windows registry.
Go to the download page now:
Clean My Registry
VaultletSuite 2 Go Free
This utility makes it easy for you to protect and control your email, passwords, and valuable portable files,
wherever you and USB drive may roam. VaultletSuite 2 Go uses industrial strength Open Source 2048 bit
RSA public key and 256 AES encryption.
[317K] [Win95/98/ME/2k/XP/Vista]

Pitaschio Free
No matter how much you love your OS, there are always things it could do better, more efficiently, and more to your taste.
With freebie Pitaschio (yes, that's spelled correctly), making dozens of Windows tweaks is as simple as checking boxes.
You can snap windows to a grid. You can disable troublesome keys like Caps Lock, Insert, and the Windows key.
You can disable minimize, maximize, and close buttons. Those are just a few of the options on the main screen.
From the buttons on that screen, you can reach useful tools like Autoraise, which pulls any window you mouse over to the top.
Version: 2.23
File Size: 61k
Operating Systems: Windows Vista, Windows XP, Windows 2000
Go to the download page now:
Pitaschio

ClutterBuster Free
ClutterBuster provides access to oft-used programs and lets you remove excess icons from your desktop.
The application doesn't install; just download it and double-click the icon to launch. You'll see a blank gray grid.
Right-click one of the squares, then browse your hard drive to find an executable to link to it. The program's icon
will show up on the square. ClutterBuster is quick and easy, and some people may prefer it to hunting through their Start menu.
File Size: 154k
Operating Systems: Windows XP, Windows 2000, Windows Me, Windows 95, Windows NT, Windows 98
Go to the download page now:
ClutterBuster

Kantaris Free
This media player can play almost anything you can throw at it:
AVI (DivX, Xvid, H264), MPEG, MGEG-AVC, WMV, MOV, MKV, FLV, MP3, WMA, and OGG files.
It can also play DVDs and audio CDs. The player also displays beautiful visualizations for music.
Kantaris is an all new media player based on code from VideoLan Client (VLC) and Bass audio library.
[317K] [Win2k/XP/Vista]
Unlocker Free
If Windows won't let you manually delete a program file or folder, try Cedrick Collomb's free Unlocker.
Once installed, Unlocker comes up automatically when Windows refuses to delete, move, or rename a file or folder,
or you can launch it from the file or folder's context menu. Once up, it shows you what processes are hanging
onto the culprit and lets you kill them.
Version: 1.8.6
File Size: 237k
Operating Systems: Windows Vista, Windows XP, Windows 2000
Go to the download page now:
Unlocker

PingInfoView Free
This is a small utility that allows you to easily ping multiple host names and IP addresses and see the results in one table.
It automatically pings to all hosts every number of seconds that you specify and displays the number of succeed and failed
pings as well as the average ping time.
You can also save the ping result into a text/HTML/XML file, or copy it to the clipboard.
[35K] [Win2k/XP/Vista]

DataCD
Free
This utility allows users to create and print simple CD jewel case labels in a variety of formats:
standard jewel cases, slim cases, pocket slim cases, SuperDisk and more.


OS:

Windows 95/98/Me/NT/2000/XP/2003 Server/


DVDStyler
Free
A crossplatform DVD authoring system that allows you to drag and drop MPEG files directly to disc,
create NTSC/PAL menus and more.
OS:
Windows 2000/XP/2003 Server/Vista
ToolzCraft
Free
A browser that previews search results with screenshots.


OS:

Windows 2000/XP/2003 Server


XPize 4.7 beta2
Free

XPize is a GUI enhancer for Windows XP and 2003. It replaces most of the non-XP icons, avis and bmps.
The installer simply automates the process of replacing resources in system files, making your XP's look better.
It also includes some extras and a reloader, which you can use after visiting Windows Update.
XPize does not contain any spyware or ad-ware of any kind.
If you are not satisfied with the results, you can completely uninstall XPize.
XPize is compatible with any version (except x64) and any language of Windows XP (Home, Pro & MCE) and 2003.
Features
* Patches more than 150 system files without user interaction.
* Updates tons of old resources still existent in Windows XP coming from Windows 95/98/2000.
* Gives Windows XP a fresh new look, with new animations, icons and images.
* Installs some cool extras, such as a boot screen, logon screen, screensaver and more.
* Lets you create a custom Windows CD using the XPized ISO feature.
* Is compatible with nLite's hotfix integration.
* Has advanced switches to let you install it silently and with the components you want.
Highly Recommended

FREE

Software
avast! Home Edition Free
Why choose a high-priced subscription antivirus program that bogs down your PC while protecting it, when avast! can do it better?
avast! is one of the few free antivirus applications that does as good a job as any of the big boys.
avast! includes more than seven different kinds of shields, safe-surfing tools, and real-time virus protection for your OS, as well as Outlook.
avast! updates automatically and frequently and, avast! works with both Windows Vista and XP.
avast! gives you all this, in the free (Not for commercial use) version. More options are available in the Pro version.
avast! requires a simple on-line registration during or after the 60 day trial period to continue uninterupted updates.
avast! has been my anti-virus program for the past 3 years.
Version: 4.8.1187
Operating Systems: Windows XP, Windows Vista
Go to the download page now:
avast! Home Edition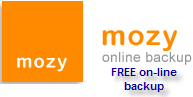 mozy

Free

Safe

Secure

online back-up


I use this every day to keep my important files safe

.

Check out:
Giveaway of the Day

Thanks to ZDNet, PCWorld , Lockergnome.com and many other sources for this nice collection.

You'll find more FreeWare at MySharedFiles

Labels: Baylor, bob3160, clouds, Dallas, Free, freeware, giftoflife, Meadow Lake, MySharedFiles, reunion, Software,
sunset, transplant, weekly