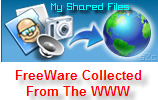 FreeWare 06-06-08
SyncBack Free
This is a free program that allows easy backup, synchronization and restoration of files to another drive,
FTP server, ZIP file, networked drive or removable media.
OS: Windows 2000/XP/2003 Server
Moffsoft FreeCalc
Free

A great replacement for the existing Windows calculator. Adds a printable/savable transaction tape,
resizable display, tray icon, digit groupings, color schemes and more to standard functionality.
OS:
Windows 95/98/Me/NT/2000/XP
TextBEAST Free
This is more than a clipboard — it's a text manager that's perfect for the busy professional or anyone who doesn't want
to waste time typing the same things over and over again. With TextBEAST, you can copy, store, organize, and paste text with ease.
It features a clean, uncluttered interface and powerful organizational capabilities.
[4.24M] [Win98/ME/2k/XP/Vista]
ThreatFire 3.5.0.21 Free
ThreatFire is dramatically different to traditional antivirus software. Normal antivirus products usually need to have first identified
and seen a threat before they can provide adequate protection against it. The protection is then provided via a signature or fingerprint update,
which must first be written by an antivirus researcher. This creates a large window of time where threats are undetected and can therefore
infect your PC even when you have antivirus software installed.
Click here to download the program
Taskbar Repair Tool Plus!
Leave it to Microsoft to make it confusing: Right click the Taskbar, choose Properties and I'll bet "Hide Inactive Icons" isn't checked, right?
Clear the checkbox, hit Apply, and you're in business. And if your System tray is ever FUBAR, grab a copy of the Taskbar Repair Tool.
It's a miraculous freebie ($5 for the Pro version) that fixes dozens (36 to be exact) of Taskbar, Quick Launch, and Systray problems.
File Size: 49k
Operating Systems: Windows XP
Go to the download page now:
Taskbar Repair Tool Plus!
Torrent2Exe v0.9 [426K] [Win2k/XP/Server03] Free
Convert your torrents into stand-alone exe files. Just enter a link or a path to a torrent file and obtain an executable file that will automatically
download your torrent. No BitTorrent client is needed. You can publish exe files on your site or blog to make the downloads easy for visitors,
send exe files to your friends who don't want to be bothered with installing the client, or else add extra functionality to your torrent-related site.
http://www.torrent2exe.com/
Some PDF To Word Converter v1.0 [783K] [Win2k/XP/Vista] Free
Can help you convert PDF to Word document files and RTF so you can edit and reuse your PDF content. Some PDF to Word Converter
preserves original layout, text, images, and vector drawings of your original PDF file.
http://www.somepdf.com/some-pdf-to-word-converter.html
BookmarkSync v2.3.2 [3.9M] [Win95/98/ME/2k/XP/Vista] Free
Unlike other Web-based bookmark utilities. It is a unique system that enables real-time automatic bookmark synchronization
between all your different browsers, computers, and operating systems. Add a bookmark to Internet Explorer at work,
and it will automatically update your Firefox browser at home and your Safari browser on your Mac.
It supports Unicode, so it works for bookmarks in all languages.
http://www.sync2it.com/?ref=cn
DeskSlide v2.1 build 2.1.0.12
[732K] [Win98/ME/2k/XP/Vista]
Free
A utility for automating wallpaper changes on your desktop. You can schedule the wallpaper to change at intervals of seconds, minutes, hours, days,
or logon. In Task Scheduler mode, you can create complex schedules. Specify how your images are displayed: auto fit, full bleed, center, align, tile,
random position, and stretch.
http://www.deskslide.com/
MediaCoder 0.6.1 Build 4106 Free
MediaCoder is a free universal audio/video batch transcoder, putting together lots of excellent audio/video codecs and tools
from the open source community into an all-in-one solution, capable of transcoding among different audio/video formats
with many extra features.
Click here to download the program
Visual CD v3.1 Free
Visual CD allows you to create catalogs of files you've moved onto a CD, DVD, Blu-Ray, or other optical media so that you can figure out
where a particular picture, song, or other file is without having to load every individual disc. It can also catalog files you still have on your hard drive,
but it's limited in that you can only search one catalog at a time.

File Size: 2248k
License Type: Free
OS: Windows Vista, Windows XP, Windows 2000, Windows Me, Windows 95, Windows 98
Go to the download page now:


Returnil Virtual System Personal Edition v 2.0 Free
The Returnil Virtual System offers a different sort of protection for your PC. Instead of trying to block malware before it can infect your system,
it allows you to reset your computer to how it was before you turned on the software's virtual environment, so that any Trojans or other nasties that
might have wormed their way in are wiped clean as if they were never there. This can be an effective approach, but there's a drawback.
Any good changes you make while the virtual protection was on--such as downloaded files, installed programs or bookmarked pages--also get rolled back.
- File Size: 2174k
Operating Systems: Windows Vista, Windows XP
Despite a lack of visual flair, this utility for monitoring your Windows processes, handles, DLLs, and Services is one of the best we've seen
for replacing the standard Windows Task Manager. A brand-new release now shows thread permissions and adds process working
set minimum and maximum columns.
File size: 1.53MB
Minimum requirements: Windows 95/98/Me/NT/2000/XP/2003 Server/Vista
SyncToy 2.0 Beta v. 2.0 Beta Free
These days its not uncommon to own two or more PCs, and if you have family members under the same roof, they probably have their own machines as well.
Why not create a "backup network" that leverages everyones hard drives? All you need is the beta of SyncToy 2.0, one of Microsofts free PowerToy utilities.
With it you can create "folder pairs" between PCs, copying files between them with a single click. This is a great way to sync, say, disparate photo libraries
between your PC and your spouses, and create a backup of both in the process.
File Size: 1110k
Operating Systems: Windows Vista, Windows XP
Go to the download page now:
SyncToy 2.0 Beta
Replace Start Menu to fit larger amounts of information.


License:

Free




OS:

Windows 2000/XP/2003 Server/Vista



Highly Recommended

FREE

Software
avast! Home Edition Free
Why choose a high-priced subscription antivirus program that bogs down your PC while protecting it, when avast! can do it better?
avast! is one of the few free antivirus applications that does as good a job as any of the big boys.
avast! includes more than seven different kinds of shields, safe-surfing tools, and real-time virus protection for your OS, as well as Outlook.
avast! updates automatically and frequently and, avast! works with both Windows Vista and XP.
avast! gives you all this, in the free (Not for commercial use) version. More options are available in the Pro version.
avast! requires a simple on-line registration during or after the 60 day trial period to continue uninterupted updates.
avast! has been my anti-virus program for the past 3 years.
Version: 4.8.1201
Operating Systems: Windows XP, Windows Vista
Go to the download page now:
avast! Home Edition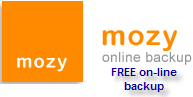 mozy

Free

Safe

Secure

online back-up


I use this every day to keep my important files safe

.

Check out:
Giveaway of the Day

Thanks to ZDNet, PCWorld , Lockergnome.com and many other sources for this nice collection.

You'll find more FreeWare at MySharedFiles

Labels: Baylor, bob3160, clouds, Dallas, Free, freeware, giftoflife, Meadow Lake, MySharedFiles, reunion, Software,
sunset, transplant, weekly