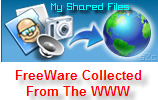 FreeWare 06-20-08
Paint.NET 3.31 Free
Paint.NET is free image editing and photo manipulation software designed to be used on computers that run Windows.
It supports layers, unlimited undo, special effects, and a wide variety of useful and powerful tools. It started development as an undergraduate
college senior design project mentored by Microsoft, and is currently being maintained by some of the alumni that originally worked on it.
Originally intended as a free replacement for the MS Paint software that comes with Windows, it has grown into a powerful yet simple tool for photo
and image editing. The programming language used to create Paint.NET is C#, with a small amount of C++ for installation and shell-integration related functionality.
Click here to download the program
VirtualBox 1.6.2 Free
VirtualBox is a family of powerful x86 virtualization products for enterprise as well as home use. Not only is VirtualBox an extremely feature rich,
high performance product for enterprise customers, it is also the only professional solution that is freely available as Open Source Software under the terms
of the GNU General Public License (GPL). See "About VirtualBox" for an introduction
Click here to download the program
Streamripper 1.6.3 Final Free
Streamripper records shoutcast-compatible streams. For shoutcast style streams it finds the "meta data" or track separation data,
and uses that as a marker for where the track should be separated.
Click here to download the program
Nullsoft Scriptable Install System 2.37 Free
NSIS (Nullsoft Scriptable Install System) is a professional open source system to create Windows installers.
It is designed to be as small and flexible as possible and is therefore very suitable for internet distribution.
Click here to download the program
GPU-Z 0.2.4 Free
GPU-Z is a lightweight utility designed to give you all information about your video card and GPU.
Main Features
Support NVIDIA and ATI cards
Displays adapter, GPU and display information
Displays overclock, default clocks and 3D clocks (if available)
Validation of results, No installation required
Support for Windows 2000 / XP / Vista (both 32 and 64 bit versions are supported)
Windows Live Photo Gallery Free
Everyone needs some way to sort, arrange, organize, and find their photos, and Windows Live Photo Gallery proves
that you can get world-class software without paying a dime. Available from Microsoft, Windows Live Photo Gallery is an enhanced version
of the Photo Gallery that ships in Windows Vista, but it works on both Vista and XP. It has superb organizer features, including adjustable
thumbnail sizes, keyword tagging, and the ability to upload photos directly to Windows Live Spaces and Flickr. My favorite feature is the
integrated panoramic stitching tool.
Version: 12.0.1471.1025
File Size: 2345k
Operating Systems: Windows Vista, Windows XP
Go to the download page now:
Windows Live Photo Gallery
Avant Browser Free
This is a Web browser based on an Internet Explorer-rendering engine that provides fast,
tabbed browsing and offers many features available only to Firefox users with plugins.
OS: Windows 98/Me/NT/2000/XP/2003 Server/Vista
Highly Recommended

FREE

Software
avast! Home Edition Free
Why choose a high-priced subscription antivirus program that bogs down your PC while protecting it, when avast! can do it better?
avast! is one of the few free antivirus applications that does as good a job as any of the big boys.
avast! includes more than seven different kinds of shields, safe-surfing tools, and real-time virus protection for your OS, as well as Outlook.
avast! updates automatically and frequently and, avast! works with both Windows Vista and XP.
avast! gives you all this, in the free (Not for commercial use) version. More options are available in the Pro version.
avast! requires a simple on-line registration during or after the 60 day trial period to continue uninterupted updates.
avast! has been my anti-virus program for the past 3 years.
Version: 4.8.1201
Operating Systems: Windows XP, Windows Vista
Go to the download page now:
avast! Home Edition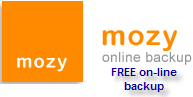 mozy

Free

Safe

Secure

online back-up


I use this every day to keep my important files safe

.

Check out:
Giveaway of the Day

Thanks to ZDNet, PCWorld , Lockergnome.com and many other sources for this nice collection.

You'll find more FreeWare at MySharedFiles

Labels: Baylor, bob3160, clouds, Dallas, Free, freeware, giftoflife, Meadow Lake, MySharedFiles, reunion, Software,
sunset, transplant, weekly