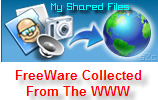 FreeWare 09-05-08
Click here to Help Support MySharedFiles
VDownloader 0.73
Free

VDownloader downloads Youtube, Google and Grinvi videos on your computer in mpeg or avi format (not flv) !
Run Vdownloader.exe and copy the url of the video you want to download. Click on Download button...
Click here to download the program
Coollector 2.18
Free


Coollector is a great tool, a piece of software like no other and child-play to use.




Coollector is the mix between an encyclopedia of movies, a video collection manager 




(owned DVD, VHS, etc...) and a store catalog. All tightly combined !




In other words, Coollector blends 3 types of information into a unique interface: 




your cinematographical culture + your personal collection + the videos available 




in store ( rated movies and persons )




This innovative 3-in-1 concept offers a completely new experience to movie lovers 




because each part interacts deeply and naturally with the others.



File Size:16497KB Language:English
OS:Win2000/XP/2003/Vista
Click here to download the program
TypeFaster Typing Tutor v0.4.2
Free

This free typing tutor teaches you how to touch-type. Once you can touch-type you will not need to look at the keyboard 
to find the letters you want to type. The program comes in three versions: Standard, Accessible and Spanish. 
Use the menu on the left to navigate to the version you are interested in.
Click here to download the program
Customize Google  v0.72  Free
If you're a big user of Google (and face it, who isn't?), you'll want to install this add-on. It customizes Google 
in just about any way you can imagine, and no doubt in many ways you've never imagined. For a starter, 
it will block Google's ads as well as Google analytic cookies, which some people believe invades their privacy. 
Additionally, it anonymizes your Google userid.
Operating Systems: Windows Vista, Windows XPGo to the download page now:

BugMeNot v2
Free

Go to a Web site, right-click in the user name or password field, and select BugMeNot. A valid user name and password 
will then be entered into the form. You can then use the site without having to register. The add-on works in concert with the 
BugMeNot Web site, which has many user names and passwords for multiple sites.
Operating Systems: Windows Vista, Windows XP
Better Gmail2  Free
There are many who think that Gmail has one primary drawback --- there's little you can customize. 
Basically, what Google gives you is what you get and nothing more. This add-on changes that. 
It lets you customize Gmail in a variety of ways including skinning it to change its colors and appearance, 
customizing the sidebar (for example, hiding the spam count), adding HTML signatures automatically to your mail, and more.
Operating Systems: Windows Vista, Windows XP
Better Gmail2
RegToy v.0.7.2.1
Free

This is a useful program that is used to Tweak Windows XP and Vista. It also includes some utilities like a renamer to change the filenames 
and a wallpaper changer. With RegToy you can optimize the performance of your computer and customize your system to suit your needs.
Editors Note:: The original language of this program is in Vietnamese, you can select English after you first run the application.
Click here to download the program
doPDF 6.1.271
Free

doPDF is a free PDF converter for both personal and commercial use. Using doPDF you can create searchable PDF files 
by selecting the "Print" command from virtually any application. With one click you can convert your Microsoft Excel, 
Word or PowerPoint documents or your emails and favorite web sites to PDF files.
doPDF installs itself as a virtual printer driver so after a successful installation will appear in your Printers and Faxes list. 
To create PDF files, you just have to print your documents to the doPDF pdf converter. 
Open a document (with Microsoft Word, WordPad, NotePad or any other software), choose Print and select doPDF. 
It will ask you where to save the PDF file and when finished, the PDF file will be automatically opened in your default PDF viewer.
Google Chrome  Free
Chrome is ambitious for sure--not a me-too product or a rebranding of someone else's browser, but a significantly new entrant that, 
on paper at least, sounds mighty appealing. Highlights:
--It has a tab-centric interface, with a default home page that shows snapshots of your favorite sites and new memory management techniques 
designed to prevent tabs from bogging down your browsing;
--It uses sandboxing to prevent malware from doing damage to your PC;
--It includes built-in anti-phishing;
--It uses an all-new JavaScript implementation designed to provide snappy performance for Web-based applications.
Version: Beta
File Size: 475k
Operating Systems: Windows Vista, Windows XP
Click here to download the program
I'm currently testing the new extramly fast browser and have it set as my default browser.
Secure Login  Free
If you often log into Web sites and forget or lose your password, Secure Login will be a great time-saver. 
It directly integrates with Firefox's password manager, and will log you into any Web site without you having to remember 
or look up the password. When you're on a page that requires a login, simply click the icon. Better yet, use a hot key combination 
to log in faster. The program also helps keep you safe by preventing hackers from stealing your passwords by halting malicious JavaScript code. 
It also prevents against other password dangers, such as cross-site scripting (XSS) attacks.
Version: 0.9.2.5
Operating Systems: Windows Vista, Windows XP
Go to the download page now:
Secure Login

WOT  
Free

The Web is full of innocent-seeming sites with bad intentions. Sites that host spyware or malware. 
Sites that spam you. Sites that scam you. Sites that invade your privacy, or that children shouldn't view. Unfortunately, 
there's no simple way to tell the good sites from the bad. That's where WOT comes in. It rates every site for trustworthiness, 
vendor reliability, privacy, and child safety, and shows you the results using simple-to-scan colored icons. (Red for bad, green for good.) 
When you do a search in Google or another Web site, you'll see the icons and know what you're in for if you visit. 
You can also visit the WOT rating for each site to see why it was given its rating.
Operating Systems: Windows Vista, Windows XP
Go to the download page now:
Click here to download the program
RegToy  Free
A free collection of useful utilities: window manager, shell context menu, registry cleaner, file renamer, screen capture, 
memory cleaner, shutdown scheduler, wallpaper changer and more. 
OS: Windows XP/Vista, Microsoft .NET Framework 2.0 SP1
FairStars CD Ripper 1.24
Free

FairStars CD Ripper is a free powerful software for ripping audio CD tracks to WMA, MP3, OGG, VQF, FLAC, APE and WAV formats files on-the-fly. 
Free CDDB is supported(Querying & Submiting). It supports normalization when ripping, and also support ID3 tag. 
FairStars CD Ripper also supports playback with its built-in player.

Main features:
Rips CD to WMA, MP3, OGG, VQF, FLAC, APE and WAV on-the-fly.
Supports automatic volume adjustment(normalization) during ripping.
Supports multiple CD/DVD drivers.
ID3 tag support.
Support automatic saving ID3 Tags when converting, and also support ID3 tags display and edit.
Query and submit CD disc information from/to the freedb (the Internet Compact Disc Database).
Audio Playback control function Support.
Easy-to-use user-friendly interface(skin support)

Click here to download the program
Shrink Pic 1.6.0
Free

Shrink Pic 1.6 can now run without being installed on the PC. It's called 'portable mode'. The program can run from a removable device 
without leaving any trace on the PC it's running on. Click on 'File->Copy to Flash Drive' and Shrink Pic will copy itself to your digital camera 
or flash key. It also adds a shortcut, on the drive's root.
Automatically reduce the size of photos for email, IM, blogging and web galleries!
Shrink Pic runs in the background. It has a taskbar icon which tells you it's waiting for photos to be sent.
Then, when it detects that you're sending a large photo, it automatically creates a temporary copy, resizes it and sends it instead. 
It gives you a notice message, so you'll know the photo you sent was resized. Of course, the original photo doesn't change, only the temporary copy.
You can control how Shrink Pic resizes your photos. Select between three automatic resize levels or enter your own custom sizes. 
Shrink Pic also recognizes rotated photos (portrait layout) and resizes them intelligently, so you don't need to worry about that too.

Size: 1.16 MB 

OS: Win 2K/03/XP/Vista
Click here to download the program
Website of Websites
I recommend adding this to your 'Favborites' or 'Bookmarks'
Highly Recommended 

FREE

 Software
avast! Home Edition  Free
Why choose a high-priced subscription antivirus program that bogs down your PC while protecting it, when avast! can do it better? 
avast! is one of the few free antivirus applications that does as good a job as any of the big boys. 
avast! includes more than seven different kinds of shields, safe-surfing tools, and real-time virus protection for your OS, as well as Outlook. 
avast! updates automatically and frequently and, avast! works with both Windows Vista and XP. 
avast! gives you all this, in the free (Not for commercial use) version. More options are available in the Pro version.
avast! requires a simple on-line registration   during or after the 60 day trial period to continue uninterupted updates.
avast! has been my anti-virus program for the past 3 years.
Version: 4.8.1229
Operating Systems: Windows XP, Windows Vista
Go to the download page now:
avast! Home Edition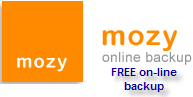 mozy 

Free

 

Safe

 

Secure

 online back-up  


I use this every day to keep my important files safe

.


Vista Recovery Discs
Recover data from a damaged Vista system with this little-known Microsoft utility.

Check out: 
Giveaway of the Day

Thanks  to  ZDNet, PCWorld , Lockergnome.com and many other sources for this nice collection.

You'll find more FreeWare at MySharedFiles

A personal appeal:  Please Click here to Help Support MySharedFiles.  Thank You

Labels: Baylor, bob3160, clouds, Dallas, Free, freeware, giftoflife, Meadow Lake, MySharedFiles, reunion, Software,
sunset, transplant, weekly