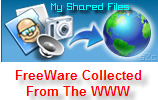 FreeWare 09-19-08
Click here to Help Support MySharedFiles
Pristy Utils 2009 1.1.9
Free

This suite of applications will help you manage your computer and will improve its performance.
Utilities included:
System PowerDown - With this application you turn off your system at specific time.
Web Assistent - With this application you can get more from your web browsing without any unnesesery random clicking.
PC Detector - Check you PC system components what are they and how fast they are running.
Memory Cleaner - With this application you can clean your RAM.
File Wipeout - With this application you permanently erase important files if you don´t need them any more.
Desktop Clock - The last application is floating desktop clock with detailed information about current date, system and CPU speed.
File Size:2133KB
OS:Win2000/XP/2003/Vista
Click here to download the program
UndeleteMyFiles 2.8
Free

UndeleteMyFiles is a free tool to recover accidentally deleted files from hard disks, USB flash drives,
CF and SD cards and other storage media.
UndeleteMyFiles is a quick and easy way to find and recover deleted media and digital devices.
It employs a simplified two-step process that enables you recover any files that used to reside on your system.
The interface is very easy to use, just select the device that contains the files that need to be recovered and
specify the folder to save the files to.
Click here to download the program
LockLizard Protector - Secure Web Viewer Free
Get a Web content security application with DRM copy, print, and expiry controls.
OS: Windows 2000/XP/2003 Server/Vista
Smart Defrag Free
Defrag your hard drive in the background automatically.
OS: Windows 2000/XP/2003 Server/Vista

ChunkIt Firefox Free
Search and extract the valuable chunks of information buried within the hyperlinks
of Google or any Web page.
OS: Windows XP/Vista

Advanced WindowsCare Personal
Protect, repair, optimize, and clean your computer in one click.
OS: Windows 2000/XP/Vista
CraigsPalFree v3.07
Free
CraigsPalFree is a free version of the popular CraigsPal —
the original automated Craigslist reader. Multi-search, browse,
and sort results on Craigslist without hassle.
JD VoiceMail v. 2.5 Free
With JDVoiceMail you can send voice email messages to anyone with an e-mail address.
JDVoiceMail generates compressed .wav or.mp3 files reducing the size from 16 to 10 times.
The recipient doesn't need any special software to listen your messages, by just double-clicking the file,
he can listen it using the default audio player.
File Size: 1322k
OS: Windows Vista, Windows XP, Windows 2000, Windows Me, Windows NT, Windows 9.x
Click here to download the program
EasyClone 2008 Free Free
Copy your entire system on another computer. Backup Windows, Mac OS, Linux, Unix,
programs as well as personal files.
OS: Windows (all)

PC Registry/Virus Diagnosis Tool Free
Scan, diagnose and fix your system registry.
OS: Windows 98/Me/NT/2000/XP/Vista

ShrinkTheWeb Free
Display a Web site thumbnails of any Web site.
OS: Windows (all)

MDaemon Free Mail Server for Windows Free
Send and receive e-mail from Web mail using a multi-language Windows-based e-mail server.
OS: Windows 2000/XP/2003 Server/Vista/2008 Server
Defraggler v. 1.02 Free
Piriform Defraggler will remove those pesky, tailed, Muppets from your hard drive once and for...oh wait.
Well, it won't do that, but it will defragment your hard drive, and it offers some features that the free defragmentation utility
including in Windows does not. First off, it's faster and prettier. The latter is important since, with large hard drives,
you'll be staring at it--or any defragmentation tool--a while. Second, it has a number of nice features which can make
disk maintenance...well, not fun, but easier and more focused.
File Size: 539k
OS: Windows Vista, Windows XP, Windows 2000
Click here to download the program
NexusFile v. 5.0.2 Free
If you're tired of the limitations of Windows Explorer, you'd do well to try this free file manager,
which significantly improves on Microsoft's underpowered one. For a start, it has a two-paned interface,
which makes it simple to move and copy files between folders, either on the same PC or over a network.
Windows Explorer, by contrast, has only a single pane, and this often requires that you open two instances
of it to perform the simplest of tasks. There are also a slew of other features, including hot keys for renaming,
copying, and moving files, among other tasks. In fact, NexusFile makes just about any kind of file operation a breeze.
Want to copy only the path of a file to the clipboard? It'll do that. It also makes it easy to archive files, add files to archives,
and to extract files out of archives. Another useful feature is a built-in simple FTP applet. If you've been frustrated by
Windows Explorer, NexusFile may solve your problems. And given that it's free, there's no reason not to give it a try.
File Size: 2121k
Operating Systems: Windows Vista, Windows Server 2003, Windows XP, Windows 2000
Click here to download the program

PhotoWipe
v. 1.11
Free
Have you ever taken what you thought was the perfect photograph, only to find that something partially obstructed your subject?
Now you can "erase" objects or obstructions from digital photos merely by "painting" over the object, and letting the program
recreate the lost detail. PhotoWipe is essentially a front-end to a complex set of formulas that perform what's known as image regularization.
One of the fringe benefits is that a program like PhotoWipe can use some of these formulae to make an educated guess as to the color of pixels
next to areas you specify in a photo. You just use a tool like one of Photoshop's brush tools to color in the portion of the image you want to
remove from view, and the program's algorithms do the rest.
File Size: 850k
Operating Systems: Windows Vista, Windows XP, Windows 2000
Click here to download the program
Highly Recommended

FREE

Software
avast! Home Edition Free
Why choose a high-priced subscription antivirus program that bogs down your PC while protecting it, when avast! can do it better?
avast! is one of the few free antivirus applications that does as good a job as any of the big boys.
avast! includes more than seven different kinds of shields, safe-surfing tools, and real-time virus protection for your OS, as well as Outlook.
avast! updates automatically and frequently and, avast! works with both Windows Vista and XP.
avast! gives you all this, in the free (Not for commercial use) version. More options are available in the Pro version.
avast! requires a simple on-line registration during or after the 60 day trial period to continue uninterupted updates.
avast! has been my anti-virus program for the past 3 years.
Version: 4.8.1229
Operating Systems: Windows XP, Windows Vista
Go to the download page now:
avast! Home Edition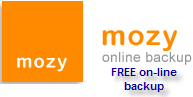 mozy

Free

Safe

Secure

online back-up


I use this every day to keep my important files safe

.


Vista Recovery Discs
Recover data from a damaged Vista system with this little-known Microsoft utility.
Website of Websites
I recommend adding this to your 'Favborites' or 'Bookmarks'

Check out:
Giveaway of the Day

Thanks to ZDNet, PCWorld , Lockergnome.com and many other sources for this nice collection.

You'll find more FreeWare at MySharedFiles

A personal appeal: Please Click here to Help Support MySharedFiles. Thank You

Labels: Baylor, bob3160, clouds, Dallas, Free, freeware, giftoflife, Meadow Lake, MySharedFiles, reunion, Software,
sunset, transplant, weekly