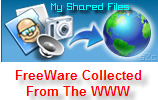 FreeWare 09-26-08
Click here to Help Support MySharedFiles
ViewNFO 2.0.1.113
Free

ViewNFO is a small free lightweight utility for displaying nfo, diz and txt files.
Click here to download the program
Passwordfox 1.05 For Firefox
Free
PasswordFox is a small password recovery tool that allows you to view the user names and passwords stored by
Mozilla Firefox Web browser. By default, PasswordFox displays the passwords stored in your current profile,
but you can easily select to watch the passwords of any other Firefox profile. For each password entry,
the following information is displayed: Record Index, Web Site, User Name, Password, User Name Field,
Password Field, and the Signons filename.
Prevent Restore Free
Many users don't realize that when it comes to files, deleted doesn't equal gone. When you delete a file,
it's removed from a table or directory, but the physical sectors that comprised the storage area for the file still contain its data.
That's why you can recover deleted files if you haven't written anything else to the hard drive. To make sure sensitive data
is truly erased, you need a program like Prevent Restore. Simply put, Prevent Restore overwrites any currently unused sectors
on a partition with spaces, random integers, or random characters. It's a simple as that--and though you may have heard rumors
that the government has some super sophisticated methods of recovering overwritten data, the average Joe or corporate spy
sure won't. It's pretty much gone.
Version: 1.1
File Size: 2300k
Operating Systems: Windows Vista, Windows XP
Click here to download the program
ReNamer Free
Renaming one file is easy. Renaming a dozen is tedious. Renaming a thousand...get someone else to do it,
or get ReNamer, a wonderful free/donationware program which allows you to set up fairly robust rules for
renaming files in a batch. ReNamer has a simple, straightforward, interface. You set up some rules--such as
"Replace the file extension" or "Delete the last 4 characters"--and then select files to which to apply the rules.
A very useful preview option allows you to see what you're going to get before you execute the process,
saving unending amounts of grief and encouraging experimentation. Once you're satisfied with the results,
ReNamer goes to work, renaming all the input files according to your rules.
Version: 5.3
File Size: 1379k
Operating Systems: Windows Vista, Windows XP
Click here to download the program

Kopf Outlook Attachment Remover
Free
Outlook stores all of its data, including emails and attachments, in a single .pst file, and that file can quickly grow
to gargantuan proportions--especially if you've got plenty of attachments. That can make Outlook load and run more slowly,
and if your .pst file gets too big, you'll be prone to crashes. What to do if you want to keep your attachments,
but don't want the .pst file to get too big? Get the clever Kopf Outlook Attachment Remover. It saves your attachments to
your PC, and gets them out of Outlook, so deletes them from your .pst file. It then links your email directly to the attachment.
So in Outlook it appears as if the attachment still existing. You still see the attachment icon. the file is actually on disk,
not in Outlook, so when you click it, you're loading it from disk.
Version: 1.1.15
File Size: 528k
Operating Systems: Windows Vista, Windows XP, Windows 2000
Click here to download the program
FolderShare 14.0.1383.0530
With FolderShare, you can access your files from anywhere. Keep all your files in sync. Use FolderShare to create a mirrored image
of your most important folders - like your favorites, pictures, and documents - so they're the same on all your computers.
Sharing with friends, co-workers, and family is easy when you add and update files in a shared library. FolderShare can sync files
up to 2 GBs in size. Install FolderShare on all your computers, and you can access all your files from any computer on the Internet.

Windows Live's FolderShare is a fantastic tool for keeping folders synchronized across multiple computers and multiple platforms.
Particularly for users who leave their computers on all the time.
File size:
1.05MB
Minimum requirements:
Windows XP/2003 Server/Vista
OutlookTools
Free
Often, Outlook options are hidden beneath many levels of menus. Worse still, there are some features of Outlook
you may simply never find. OutlookTools aims to make configuring Outlook far simpler, and it does an excellent job of it.
You'll be able to quickly get access to all of your Outlook settings and file folders, as well as run troubleshooting tools,
such as one to fix corrupt .pst files. You can also solve one of the more annoying problems with Outlook--the way the
program blocks many file types, because it considers them insecure. OutlookTools will unblock any file type you want.
In addition, it will let you start Outlook with any one of numerous switches, and let you customize when and how
Desktop Alerts appear telling you that you have new mail. You can change the transparency of alerts,
as well as determine how long they should stay visible.
Version: 2.1.0
File Size: 374k
OS: Windows Vista, Windows Server 2003, Windows XP, Windows 2000
Click here to download the program
OpenOffice.org Free
Not happy with the idea of a Web-based office application? Then you want the downloadable OpenOffice.org,
the free competitor to Microsoft Office. It's a full suite, with a word processor, spreadsheet, presentation program,
database, and drawing program--and, for ubergeeks, a "mathematical function calculator" (if you have to ask what it is,
you don't need it). No need to worry about compatibility with Microsoft Office formats, because it handles all of those,
as well as Open Source formats as well. Each of the programs in the suite offers just about all the power you'll need.
Version: 2.4.1
File Size: 130105k
OS: Windows XP, Windows 2000, Windows NT
Click here to download the program

Business Functions
Free
Looking to use Excel to run your business? Then you'll want this free add-in, which has 500 new functions to help
with just about any business analysis, budgeting, or tracking you need. Need functions specifically for real estate,
such as a variety of functions having to do with rent? It's there. So are functions for other specific industries, as well as
hundreds of general-purpose Excel functions as well. There's no need to run Business Functions separately from Excel;
it integrates directly within it, and is available as menu options. No matter what you need for your business, there's probably
something for you, including a nifty time chart creator, and much more.
Version: 1.5
File Size: 12624k
OS: Windows Vista, Windows XP, Windows 2000
Click here to download the program
Digsby
Free

This Instant Messaging program helps you manage all your IM, e-mail, and social network accounts
from one easy-to-use application.
OS: Windows, Apple, Linux

Click here to download the program
Cool Timer Free
Simple, no-nonsense, handy timer utility with a cool, customizable interface.
Can be used like an oven timer, alarm clock, or stopwatch.
OS: Windows 95/98/Me/NT/2000/XP/Vista, VB6 Runtime
Highly Recommended

FREE

Software
avast! Home Edition Free
Why choose a high-priced subscription antivirus program that bogs down your PC while protecting it, when avast! can do it better?
avast! is one of the few free antivirus applications that does as good a job as any of the big boys.
avast! includes more than seven different kinds of shields, safe-surfing tools, and real-time virus protection for your OS, as well as Outlook.
avast! updates automatically and frequently and, avast! works with both Windows Vista and XP.
avast! gives you all this, in the free (Not for commercial use) version. More options are available in the Pro version.
avast! requires a simple on-line registration during or after the 60 day trial period to continue uninterupted updates.
avast! has been my anti-virus program for the past 3 years.
Version: 4.8.1229
Operating Systems: Windows XP, Windows Vista
Go to the download page now:
avast! Home Edition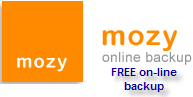 mozy

Free

Safe

Secure

online back-up


I use this every day to keep my important files safe

.


Vista Recovery Discs
Recover data from a damaged Vista system with this little-known Microsoft utility.
Website of Websites
I recommend adding this to your 'Favorites' or 'Bookmarks'

Check out:
Giveaway of the Day

Thanks to ZDNet, PCWorld , Lockergnome.com and many other sources for this nice collection.

You'll find more FreeWare at MySharedFiles

A personal appeal: Please Click here to Help Support MySharedFiles. Thank You

Labels: Baylor, bob3160, clouds, Dallas, Free, freeware, giftoflife, Meadow Lake, MySharedFiles, reunion, Software,
sunset, transplant, weekly