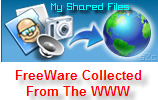 FreeWare 10-31-08
Click here to Help Support MySharedFiles
1by1
v. 1.65
Free

Windows Media Player and iTunes are great programs, but they do a lot more than simply play audio.
That results in heavy disk footprints and--especially with iTunes--slow loading. If you're looking to do a
180 and go with the quickest-booting, least resource-hungry application you can find, that would be 1by1.
This audio player is a mere 115KB download and imposes an only slightly larger 120KB disk footprint.
Simplicity personified, 1by1's interface is the familiar Explorer-type window with a directory tree and viewing pane.
It's a great little, and I mean
little
, program.
File Size: 115k
Operating Systems: Windows Vista, Windows XP
Click here to download the program
Photo Joy v.7.0.0.1554 Free
This is the complete desktop enhancement package. Dispaly your photos on your desktop
among various backgrounds as well as having a good selection of awesome screensavers.
This program is excellent.

BullZip FREE PDF Printer 6.0.0.695 Free
The Bullzip PDF Printer works as a Microsoft Windows printer and allows you to write PDF documents
from virtually any Microsoft Windows application. This program is FREEWARE with limitations,
which means that it is FREE for personal and commercial use up to 10 users. It does not contain
any advertising or popups.
Click here to download the program
Everything for Windows v.1.1.4.301 Free
"Everything" is a fast folder and file name search engine for Windows.
Unlike Windows search "Everything" initially displays every file and folder
on your computer (hence the name "Everything").
You type in a search filter to limit what files and folders are displayed.
"Everything" only uses file and folder names and generally takes a few seconds
to build it's database. 1,000,000 files will take about 1 minute.
"Everything" only only searches file and folder names.
"Everything" uses very little system resources.
A fresh install of Windows XP SP2 (about 20,000 files) will use about 3-5mb of ram
and less than 1mb of disk space.
1,000,000 files will use about 45mb of ram and 5mb of disk space.
"Everything" monitors file system changes.
Your search windows will reflect changes made to the file system.
O.S. :
Windows 2000, XP, 2003 and Vista

NTFS ONLY
Click here to download the program
TweakNow Free WinSecret
The most popular Windows XP/Vista registry settings, right at your fingertips in an easy-to-use interface.
OS: Windows XP/Vista

Folder Guide Free
A free, handy utility that provides fast access to your frequently used and favorite folders
with a single click.
OS: Windows 95/98/Me/2000/XP/2003 Server/Vista

aTunes Free
Dislike iTunes? ATunes is a fully-featured, highly portable audio player and manager,
with ripping and encoding tools included.
OS: Windows 95/98/Me/NT/2000/XP/2003 Server/Vista, Java Runtime Environment 1.4.2

Any Video Converter V.2.6.5 Free
Playing video doesn't mean you're tethered to your PC. Countless different other devices
can play video as well, including hand-held devices and music players, mobile phones,
and the PlayStation Portable. Trouble is, the videos you've downloaded to your PC might not be in
the formats those devices require. This free piece of software solves the problem.
Any Video Converter Free Version is a universal converter that converts files between many different formats,
including just about any you'll find online. It even handles .flv files so that you could, for example,
download YouTube videos using TubeMe, then convert the file to a format you can play on a portable device.
Converting files is simple: Select the videos you want to convert (you can do it en masse),
select the format you want them converted to, and then click the Encode button.
File Size: 13094k
OS: Windows Vista, Windows XP
Click here to download the program

Online TV Player Basic v.4.8.0.0 Free
Wonder what's playing on TV right now in Albania? How about in Indonesia, Italy, Peru--or just about anywhere else
around the world? This great freebie lists hundreds of TV stations that broadcast online, from Afghanistan to Vietnam,
and lets you watch them for free. Simply run the software, browse the list of TV stations around the world,
double-click one you want to see, and you'll be watching. It lets you listen to radio stations around the world as well.
File Size: 1672k
OS: Win. Vista, Win. Server 2003, Win. XP, Win. 2000, Win. Me, Wind. NT, Wind. 98
Click here to download the program
Highly Recommended

FREE

Software
avast! Home Edition Free
Why choose a high-priced subscription antivirus program that bogs down your PC while protecting it, when avast! can do it better?
avast! is one of the few free antivirus applications that does as good a job as any of the big boys.
avast! includes more than seven different kinds of shields, safe-surfing tools, and real-time virus protection for your OS, as well as Outlook.
avast! updates automatically and frequently and, avast! works with both Windows Vista and XP.
avast! gives you all this, in the free (Not for commercial use) version. More options are available in the Pro version.
avast! requires a simple on-line registration during or after the 60 day trial period to continue uninterupted updates.
avast! has been my anti-virus program for the past 3 years.
Version: 4.8.1229
Operating Systems: Windows XP, Windows Vista
Go to the download page now:
avast! Home Edition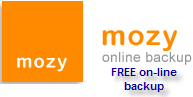 mozy

Free

Safe

Secure

online back-up


I use this every day to keep my important files safe

.


Vista Recovery Discs
Recover data from a damaged Vista system with this little-known Microsoft utility.
Website of Websites
I recommend adding this to your 'Favorites' or 'Bookmarks'

Check out:
Giveaway of the Day

Thanks to ZDNet, PCWorld , Lockergnome.com and many other sources for this nice collection.

You'll find more FreeWare at MySharedFiles

A personal appeal: Please Click here to Help Support MySharedFiles. Thank You

Labels: Baylor, bob3160, clouds, Dallas, Free, freeware, giftoflife, Meadow Lake, MySharedFiles, reunion, Software,
sunset, transplant, weekly