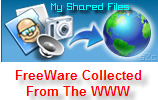 FreeWare 11-07-08
Click here to Help Support MySharedFiles
MediaCoder is a free universal audio/video batch transcoder, putting together lots of excellent audio/video codecs and tools
from the open source community into an all-in-one solution, capable of transcoding among different audio/video formats with
many extra features.
Click here to download the program
ResourcesExtract is a small utility that scans dll/ocx/exe files and extract all resources (bitmaps, icons, cursors, AVI movies,
HTML files, and more...) stored in them into the folder that you specify.
You can use ResourcesExtract in user interface mode, or alternatively, you can run ResourcesExtract in command-line mode
without displaying any user interface.
Click here to download the program
adds a global hot key for easy app management, and allows wallpaper customization.
File size:
35.05MB
Minimum requirements:
Windows XP/Vista
System Explorer
Free
This full-featured system analyzing tool lets you take a sneak peek at everything that's going on in your system,
from currently active processes to installed drivers, including also network collections,
startup applications and any Internet Explorer add-ons.
OS: Windows XP/Vista
IrfanView 4.2
Free
View and edit most graphics formats in a fast and simple way. Simple for beginners and powerful for professionals.
OS: Windows 95/98/Me/NT/2000
Recover Files
Free
Recover permanently deleted files from hard disks and removable media.
OS: Windows 95/98/Me/NT/2000/XP/2003 Server/Vista
SyncBack 3.2.18.0
Free
Back up, restore, or sync files to drives, servers, or removable media.
OS: Windows 2000/XP/2003 Server
EncryptOnClick
Free
EncryptOnClick is a very simple to use program that lets you securely encrypt and decrypt files with 256-bit AES encryption.
OS: Windows 98/Me/2000/XP/2003 Server
Smart Defrag
Free
Defrag your hard drive in the background automatically.
OS: Windows 2000/XP/2003 Server/Vista
TweakNow WinSecret
Free
Tweak various Windows XP and Vista registry settings.
OS: Windows XP/Vista
FreeRAM XP Pro
Free
Optimization and increase your system performance by cleaning the content of your RAM.
OS: Windows 95/98/Me/2000/XP/2003 Server
Evonsoft Computer Repair
Free
Repair and clean your PC to make your system stable and fast.
OS: Windows 2000/XP/2003 Server/Vista
KeyScrambler Personal
Free
Encrypt keystrokes to protect your username and password from keyloggers.
OS: Windows 2000/XP/2003 Server/Vista
PartedMagic 3.1 Free
If you need more than the basic partitioning functionality provided by Windows--or
do a lot of work with hard drives--you're going to love Parted Magic.
PM is a bootable Live Linux distribution that runs completely from memory:
it doesn't access the hard drive at all. This program provides easy access to the Gnome Partition Editor,
a highly competent tool that supports every type of partition you can think of:
ext2, ext3, ext4, fat16, fat32, hfs, hfs+, jfs, linux-swap, ntfs, reiserfs, reiser4, and xfs.
License Type: Donationware
File Size: 50MB
OS:Windows NT, 2000, 9.x, Me, XP, and Vista

Home FTP Server 1.6.6.105 Free
This freebie lets you set up an FTP server at home or for your business.
It offers all the basics you'll need, including setting up individual accounts for those who want to log in,
for monitoring file transfers, and for basic security.
File Size: 1342
OS:Windows XP, Vista

Highly Recommended

FREE

Software
avast! Home Edition Free
Why choose a high-priced subscription antivirus program that bogs down your PC while protecting it, when avast! can do it better?
avast! is one of the few free antivirus applications that does as good a job as any of the big boys.
avast! includes more than seven different kinds of shields, safe-surfing tools, and real-time virus protection for your OS, as well as Outlook.
avast! updates automatically and frequently and, avast! works with both Windows Vista and XP.
avast! gives you all this, in the free (Not for commercial use) version. More options are available in the Pro version.
avast! requires a simple on-line registration during or after the 60 day trial period to continue uninterupted updates.
avast! has been my anti-virus program for the past 3 years.
Version: 4.8.1229
Operating Systems: Windows XP, Windows Vista
Go to the download page now:
avast! Home Edition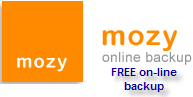 mozy

Free

Safe

Secure

online back-up


I use this every day to keep my important files safe

.


Vista Recovery Discs
Recover data from a damaged Vista system with this little-known Microsoft utility.
Website of Websites
I recommend adding this to your 'Favorites' or 'Bookmarks'

Check out:
Giveaway of the Day

Thanks to ZDNet, PCWorld , Lockergnome.com and many other sources for this nice collection.

You'll find more FreeWare at MySharedFiles

A personal appeal: Please Click here to Help Support MySharedFiles. Thank You

Labels: Baylor, bob3160, clouds, Dallas, Free, freeware, giftoflife, Meadow Lake, MySharedFiles, reunion, Software,
sunset, transplant, weekly