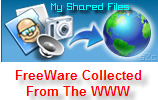 FreeWare 11-28-08
Click here to Help Support MySharedFiles
Kantaris Media Player V0.4.2
Free
Without the need for downloading countless codecs, Kantaris Media Player can play almost anything
you can throw at it - AVI, MPEG, MGEG-AVC, WMV, MOV, MKV, QuickTime, Matroska, DivX, Xvid, H264,
MP3, WMA, OGG files, and more. It can also play DVDs and audio CDs. The player also displays
some of the most beautiful music visualizations ever seen.
Size: 8.83 M
OS: Win95/98/Me/XP/Vista
Clipdiary v. 1.95 beta
Free
Clipdiary does exactly what it's intended to: It saves everything that you copy to the Windows
clipboard and makes it all available in one convenient interface, available across programs via
a hotkey combo. The program is very simple to use. It loads at startup and resides in your system tray.
Just work as normal, and when you want access to something you've copied to the
clipboard--even days ago--press Ctrl-D or click the Clipdiary icon.
File Size: 998 KB
OS: Windows XP, Vista
Screenshot Captor v. 2.44.01
Free
Ever felt unfairly limited by Windows' built-in screenshot taker, the ubiquitous PrintScreen button?
Screenshot Captor takes control of this key and allows you to exert fine control over the screenshot process.
With the ability to capture any kind of window in any application, Screenshot Capture is the last word in
screen grabbing. It possesses all the features found in commercial screen grab application such as SnagIt,
and it's totally free--though the host asks for a donation
File Size: 8816 KB
OS: Windows 9.x, 2000, XP, Vista
Wise Registry Cleaner v.3.73
Free
The older your PC is, the more junked-up its Registry becomes.
Badly written programs (and there are plenty of those around) don't bother to clean the Registry
when you uninstall them, and some programs add unnecessary junk to to the Registry. The more junked-up
your Registry, the more likely it is to crash or to slow down your PC. This freebie does a neat job of
cleaning out the Registry junk.
File Size: 1288
OS: Windows Vista, XP, 2000, Me, NT, 98; Windows Server 2003
Comodo Registry Cleaner v. 1.0.17.23
Free
If you're looking for a free way to optimize your PC, Comodo Registry Cleaner is a great bet.
This excellent registry cleaner seeks out errors and junk in your Registry, fixes them out,
and leaves you with a more stable PC.
File Size: 3189 KB
OS: Windows Vista, XP
Photology 2.0.117 Free
If you're looking for a way to sift through an enormous image library for specific photos,
this application might be just the ticket. Among Photology's powerful tools is the capability
to search by color simply by using a mouse-over tool to select different gradations.
File size: 11.95MB
OS: Windows 2000/XP/2003 Server/Vista

Password Dragon 5.0.8 Free
Organizing log-in information is a painless process with this easy-to-use password manager.
Novices will especially appreciate Password Dragon's straightforward user interface for
accessing the password generator.
File size: 736.56KB
OS: Windows NT/2000/XP/2003 Server/Vista

HotKeyz 2.7.2 Free
This powerful utility makes it easy to create and manage hot key combinations that open programs,
shut down your computer, control media applications, and more using Hotkeyz's intuitive interface.
File size: 1.28MB
OS: Windows 95/98/NT/2000/XP/Vista
12 Shortcuts utilizing the Windows Key Free
The mouse isn't always the easiest way to get something done.
TheWorld Browser v. 2.3 Final Free
TheWorld Browser provides a fast, safe, and easy way to browse the Web.
It will revolutionize your internet experience with many useful features
that other browsers don't provide. Give it a try, we guarantee our browser
is 100% malware free.
Size: 602 Kb
OS: Win XP/Vista
Highly Recommended

FREE

Software
avast! Home Edition Free
Why choose a high-priced subscription antivirus program that bogs down your PC while protecting it, when avast! can do it better?
avast! is one of the few free antivirus applications that does as good a job as any of the big boys.
avast! includes more than seven different kinds of shields, safe-surfing tools, and real-time virus protection for your OS, as well as Outlook.
avast! updates automatically and frequently and, avast! works with both Windows Vista and XP.
avast! gives you all this, in the free (Not for commercial use) version. More options are available in the Pro version.
avast! requires a simple on-line registration during or after the 60 day trial period to continue uninterupted updates.
avast! has been my anti-virus program for the past 3 years.
Version: 4.8.1296
Operating Systems: Windows XP, Windows Vista (Windows 7 Beta)
Go to the download page now:
avast! Home Edition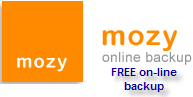 mozy

Free

Safe

Secure

online back-up


I use this every day to keep my important files safe

.


Vista Recovery Discs
Recover data from a damaged Vista system with this little-known Microsoft utility.
Website of Websites
I recommend adding this to your 'Favorites' or 'Bookmarks'

Check out:
Giveaway of the Day

Thanks to ZDNet, PCWorld , Lockergnome.com and many other sources for this nice collection.

You'll find more FreeWare at MySharedFiles

A personal appeal: Please Click here to Help Support MySharedFiles. Thank You

Labels: Baylor, bob3160, clouds, Dallas, Free, freeware, giftoflife, Meadow Lake, MySharedFiles, reunion, Software,
sunset, transplant, weekly