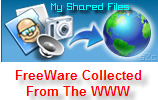 FreeWare 12-12-08
Click here to Help Support MySharedFiles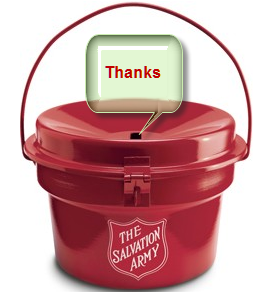 For this Holiday Season, I've set up a small secure donation site to help those in need.
Please join me in making a small donation for a worthy cause.
Thanks and God Bless.
http://give.salvationarmyusa.org/goto/bob3160
SmartClose
Free
This utility will automatically close all running programs, disable the screen saver,
and halt all other processes that can interrupt without asking.
OS: Windows 95/98/Me/NT/2000/XP/2003 Server/Vista
PhotoMesa v.3.1.2
Free
PhotoMesa is a zoomable image browser. It allows the user to view multiple directories
of images at once, and uses simple navigation commands to smoothly zoom in and out.
PhotoMesa requires only images on disk, and does not require any annotation,
importing to a database, or other organization.
The interface lets you concentrate on the images, without having to manage scrollbars,
menus, or pop-up windows.
Features:
Easy to get started
See multiple folders at once
Browse thousands of photos
Find all the photos on your hard drive
Supports many image filetypes:
JPEG, GIF, PNG, BMP, EMF, ICON, TIF, WMF
Easy name, category and caption annotation
Fast search by any kind of annotation
Preview in place on mouse over
Drag and drop into email
Easy enough for a child to use -
left click zooms in, right click zooms out
Active@ Hard Disk Monitor
Free
This software utility monitors the HDD SMART status.
For example: hard disk parameters such as Temperature, Head Flying Height and Spin-Up Time
to notifies a user if critical conditions occur. Disk Monitor also displays hard disk drive
information, current S.M.A.R.T. attributes and the overall status of the hard disk's health.
Advanced disk scan allows you to detect bad sectors on a disk's surface. The software can be
launched automatically at Windows startup and monitor the system in the background.
An icon in the System Tray can display the temperature for selected HDD(s).
FileMenu Tools v.5.3.2
Free
Lets you customize the context (right-click) menu of Windows Explorer.
Adds built-in utilities to perform operations on files and folders and
adds customized commands.
Size: 6,131 KB
OS: Windows 98/Me/NT/2000/XP/Vista
PhraseExpress v.6.0.103.0
Free
Tired of typing the same words, signatures, phrases, and even paragraphs over and over?
What you need is a program that automatically inserts text when you type an abbreviation
or hit a hotkey. PhraseExpress is one such program, and it works in any program
(word processor, e-mail client, blog tool, etc.).
File Size: 2643KB
OS: Windows Vista, XP, 2000; Windows Server 2003
Ken Rename v.0.65
Free
This small and useful utility allows for easy rules-based, bulk file renaming.
Ken Rename allows you to specify a series of changes using a fairly intuitive interface,
preview the results, and then execute them. The program is easy to use, does what it's supposed to,
and is under active development. If you need it, it's worth trying out.
File Size: 608KB
OS: Windows Vista, XP, 2000; Windows Server 2003
Jalbum 8.1
Free
Jalbum is a free gallery software that creates personalized web albums of your digital pictures.
Download Jalbum today and set your pictures free.
Jalbum was developed in Java, therefore it runs on every operating system which is capable of running Java,
including Windows (all versions), Mac OSX, Linux, Solaris, HP-UX, AIX, OS2.
Migratr v.1.03
Free
If you've spent hours uploading your photos to a photo sharing/hosting service,
you no longer need to feel you're locked in. Migratr can move entire photo gallery accounts
from one service to another. The tool supports 23HQ, AOL Pictures, Faces.com, Flickr, Picasa Web,
Phanfare, SmugMug, Zenfolio, and Zooomr, as well as photo galleries that run under Menalto Gallery.
Migratr can also be used as a photo uploading utility for any of the sites it supports.
File Size: 636KB
OS: Windows Vista, XP
Windows Vulnerability Scanner v1.29
Free
Windows Vulnerability Scanner checks your system for Windows vulnerabilities.
It guides you to update with the right patches to make your system more secure.
Once the scan is completed, Windows Vulnerability Scanner lists the vulnerabilities detected,
their risk level, and the download location of the necessary patches.
File Size:1.19M
OS:Win2k/XP/Vista
Highly Recommended

FREE

Software
avast! Home Edition Free
Why choose a high-priced subscription antivirus program that bogs down your PC while protecting it, when avast! can do it better?
avast! is one of the few free antivirus applications that does as good a job as any of the big boys.
avast! includes more than seven different kinds of shields, safe-surfing tools, and real-time virus protection for your OS, as well as Outlook.
avast! updates automatically and frequently and, avast! works with both Windows Vista and XP.
avast! gives you all this, in the free (Not for commercial use) version. More options are available in the Pro version.
avast! requires a simple on-line registration during or after the 60 day trial period to continue uninterupted updates.
avast! has been my anti-virus program for the past 3 years.
Version: 4.8.1296
Operating Systems: Windows XP, Windows Vista (Windows 7 Beta)
Go to the download page now:
avast! Home Edition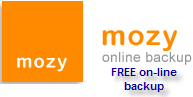 mozy

Free

Safe

Secure

online back-up


I use this every day to keep my important files safe

.


Vista Recovery Discs
Recover data from a damaged Vista system with this little-known Microsoft utility.
Not quite Google


Quick links to almost everything
http://www.allmyfaves.com/
or:
http://mysharedfiles.no-ip.org/AllMyFaves.url

Check out:
Giveaway of the Day

Thanks to ZDNet, PCWorld , Lockergnome.com and many other sources for this nice collection.

You'll find more FreeWare at MySharedFiles

A personal appeal: Please Click here to Help Support MySharedFiles. Thank You

Labels: Baylor, bob3160, clouds, Dallas, Free, freeware, giftoflife, Meadow Lake, MySharedFiles, reunion, Software,
sunset, transplant, weekly