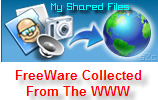 FreeWare 01-09-09
Click here to Help Support MySharedFiles
PeaZip v.2.4.1
Free
This is a free, open source file and archive manager.
PeaZip is cross platform, available as portable and installable software.
create: 7Z, ARC, BZ2, GZ, PAQ/LPAQ, PEA, QUAD/BALZ, TAR, UPX, ZIP;
open: ACE, ARJ, CAB, DMG, ISO, LHA, RAR, UDF and many more archive types
OS: Windows 9x, 2000, XP, Vista (32 and 64 bit)
and Linux (PeaZip is a desktop neutral application).
ThreatFire 4.0.0.10
Free
We believe security software should be "set and forget" so once you install ThreatFire
you won't need to answer lots of technical questions, in fact the only time you should
even notice ThreatFire is protecting your PC is when we detect something malicious that
requires your attention.
VSO Image Resizer v2.1.5.5
Free
The VSO free image resize software organizes your photos by shrinking their resolution or
moving them within your hard drive.
VSO Image resizer is the perfect tool for those who store their digital pictures and images
on their PC and who want to resize, compress, convert, create copies, create thumbnails,
import or organize photos.
CCleaner v.2.15
Free
CCleaner searches through a number of programs and removes useless files.
It's highly configurable, allowing you to select which problems to look for
and which items to ignore. Many cleaners scrub out just your browser cache or
your temporary files folder, but CCleaner goes further. It cleans temporary files
from common third-party applications as well.
File Size: 3092KB
OS: Windows XP, Vista
Click here to download the Slim (No Toolbar) version
StudioTax 2008
Free
(for personal use.)
StudioTax covers the overwhelming range of personal income tax scenarios
from simple tax returns to more involved returns for self-employed,
returns with rental income and everything in between.
And you don't have to guess what version you need or afford;
only one fully functional version is available for all at the affordable cost of $0.00/return!
One click & app is gone
Free
Terminate your frozen apps easly
Download http://mysharedfiles.no-ip.org/click-gone-setup.exe
WinBubble v.1.76
Free
Customize Windows Vista in more ways that you may have thought even possible
with this freeware utility. An intuitive design makes it easy for newbies to access
the numerous settings and options.
File size: 383.01K
OS: Windows Vista
SUPERAntiSpyware Free Edition 4.24.1004 Beta
Free
A next generation product, with its Multi-Dimensional Scanning and
Process Interrogation Technology will detect spyware and remove over 1,000,000 pests.
OS: Windows, 400MHz or Faster Processor 256MB RAM
Koma-Mail 3.77
Free
Koma-Mail is an email client which is comfortable and has very handy functions.
It does not need an installation, so that you can run Koma-Mail from your flash drive but,
of course, also on your desktop.
Photocopier v.3.04
Free
Got a scanner and a printer? Why not combine the two into a copier?
You no longer need a Xerox if you have Photocopier. This is how it goes:
insert a document into your scanner, start Photocopier and press its Copy button.
After a few moments your printer produces a copy of the document. That's it.
No difficult settings to make, it's very user friendly.
File Size: 1013KB
OS: Windows NT, 2000, 9.x, Me, XP, Vista
Glary Registry Repair 3
Free
Quickoffice Glary Registry Repair 3 An advanced registry cleaner for Windows that allows you
to safely scan, clean, and repair registry problems. Glarysoft Registry Repair allows you to
fix your registry and optimize your PCs performance with a few simple mouse clicks.
Size: 1,864 KB
OS: Windows 98/Me/NT/2000/XP/2003 Server/Vista
Highly Recommended

FREE

Software
avast! Home Edition Free
Why choose a high-priced subscription antivirus program that bogs down your PC while protecting it, when avast! can do it better?
avast! is one of the few free antivirus applications that does as good a job as any of the big boys.
avast! includes more than seven different kinds of shields, safe-surfing tools, and real-time virus protection for your OS, as well as Outlook.
avast! updates automatically and frequently and, avast! works with both Windows Vista and XP.
avast! gives you all this, in the free (Not for commercial use) version. More options are available in the Pro version.
avast! requires a simple on-line registration during or after the 60 day trial period to continue uninterupted updates.
avast! has been my anti-virus program for the past 3 years.
Version: 4.8.1296
Operating Systems: Windows XP, Windows Vista (Windows 7 Beta)
Go to the download page now:
avast! Home Edition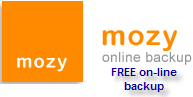 mozy

Free

Safe

Secure

online back-up


I use this every day to keep my important files safe

.


Vista Recovery Discs
Recover data from a damaged Vista system with this little-known Microsoft utility.
Not quite Google


Quick links to almost everything
http://www.allmyfaves.com/
or:
http://mysharedfiles.no-ip.org/AllMyFaves.url

Check out:
Giveaway of the Day

Thanks to ZDNet, PCWorld , Lockergnome.com and many other sources for this nice collection.

You'll find more FreeWare at MySharedFiles

A personal appeal: Please Click here to Help Support MySharedFiles. Thank You

Labels: Baylor, bob3160, clouds, Dallas, Free, freeware, giftoflife, Meadow Lake, MySharedFiles, reunion, Software,
sunset, transplant, weekly