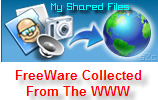 FreeWare 01-23-09
Click here to Help Support MySharedFiles
Identity Finder Free Edition v.3.5.3
Free
This utility will detect unprotected credit card information and passwords on your computer
and secure the information to protect you from identity theft.
OS: Windows 2000 with SP3/XP/Vista
KeePass v.1.14
Free
This utility is a free/open-source password manager or safe which helps you to
manage your passwords in a secure way. You can put all your passwords in one database,
which is locked with one master key or a key-disk. So you only have to remember one single
master password or insert the key-disk to unlock the whole database.
Mz Vista Force v.2.4
Free
This is an updated version of Mz Ultimate Tweaker, to work on Windows Vista.
The interface, the -apply tweaks- and -load- engine are rebuild.
It also comes with many new Tweaks.
Drive Manager v.4.03
Free
This is a nice little utility that becomes more useful the more drives--
including USB keys and the like--you use regularly. While Windows has some of this
functionality built in, it can be a pain to access (you have to burrow through a good bit
of the Control Panel to find it), and it doesn't include the level of detail you get
through Drive Manager.
File Size: 1679KB
OS: Windows NT, 2000, 9.x, Me, XP, Vista
Click here to download file from MySharedFiles
Comparer v.1.0.3.2
Free
Windows Explorer will tell you a lot about the properties of files if you choose to display all the columns--but who
wants to browse a hard drive with all that usually unnecessary information cluttering things up? An easier solution
for the occasional need to compare two similar files would be Comparer. You drag a pair of tiles to this simple, free
utility, which then displays all the pertinent information.
File Size: 277KB
OS: Windows XP, Vista
Foobar2000 0.9.6.2 beta 2
Free
This is an advanced freeware audio player for the Windows platform.
Some of the basic features include full unicode support, ReplayGain support
and native support for several popular audio formats.
Lavasoft Ad-Aware Anniversary Edition 8.0
Free
With behavior-based threat detection and integrated real-time monitoring,
Ad-Aware Anniversary Edition focuses on core consumer security needs.
OS: Windows 2000/XP/2003 Server/Vista(32- and 64-bit)
Revo Uninstaller v.1.80
Free
With its advanced and fast algorithm to scan before and after uninstall you can remove
unnecessary files, folders, and registry keys left in your computer after you have uninstalled
an application with its built-in uninstaller.
File Size: 1 MB
OS: Win2k/XP/Vista
FaviconizeTab v.0.9.8.1
Free
This Firefox extension adds a new "FaviconizeTab" option to the context menu of the tab.
When it is clicked, The width of the tab becomes small up to the size of favicon.
It returns to the former size when "FaviconizeTab" is clicked again.
Requirements: Windows 2000/XP/Vista; Firefox 1.5+
save2pc v.3.43
Free
This is a free tool that downloads videos from YouTube or Google Video and saves it as
AVI or MPEG or FLV files to your local computer. save2pc allows you to easily grab
and save desired YouTube videos. The user interface of save2pc is very simple,
so you don't need any technical knowledge.
XHeader v.1.01
Free
This is a free graphics utility whose sole focus is creating professional-quality headers
for Web sites. To that end, it includes many built-in header graphics with stock images.
Often, a header is the first thing a visitor sees at a small-business Web site,
so this easy-to-use program will come in handy toward that end.
File Size: 37,099KB
OS: Windows 2000, XP, Vista
Digital Clip Factory v.1.3.0
Free
This graphic utilitytakes your jpegs and creates a nice, simple slide show with them--
for free. Of course, you're limited to jpegs for images and MP3s or WMA files
for an audio track, but that's the majority of what most people use anyhow. Digital Clip Factory allows more editing
File Size: 1178KB
OS: Windows 95, 98, 2000, Me, XP, Windows Vista
Highly Recommended

FREE

Software
avast! Home Edition Free
Why choose a high-priced subscription antivirus program that bogs down your PC while protecting it, when avast! can do it better?
avast! is one of the few free antivirus applications that does as good a job as any of the big boys.
avast! includes more than seven different kinds of shields, safe-surfing tools, and real-time virus protection for your OS, as well as Outlook.
avast! updates automatically and frequently and, avast! works with both Windows Vista and XP.
avast! gives you all this, in the free (Not for commercial use) version. More options are available in the Pro version.
avast! requires a simple on-line registration during or after the 60 day trial period to continue uninterupted updates.
avast! has been my anti-virus program for the past 3 years.
Version: 4.8.1296
Operating Systems: Windows XP, Windows Vista (Windows 7 Beta)
Go to the download page now:
avast! Home Edition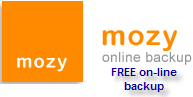 mozy

Free

Safe

Secure

online back-up


I use this every day to keep my important files safe

.


Vista Recovery Discs
Recover data from a damaged Vista system with this little-known Microsoft utility.
Not quite Google


Quick links to almost everything
http://www.allmyfaves.com/
or:
http://mysharedfiles.no-ip.org/AllMyFaves.url

Check out:
Giveaway of the Day

Thanks to ZDNet, PCWorld , Lockergnome.com and many other sources for this nice collection.

You'll find more FreeWare at MySharedFiles

A personal appeal: Please Click here to Help Support MySharedFiles. Thank You

Labels: Baylor, bob3160, clouds, Dallas, Free, freeware, giftoflife, Meadow Lake, MySharedFiles, reunion, Software,
sunset, transplant, weekly