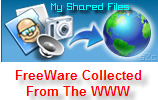 FreeWare 05-22-09
Click here to Help Support MySharedFiles
Textorizer v. 20090424
Free
This is a program that allows you to make pictures formed with text.
It is best described by looking at the sample images at their website.
OS: Windows, Linux, Mac OS X
Wipe v2.36
Free
This is a free, easy, and powerful tool for clearing user browsing history,
cleaning index.dat files, removing cookies, clearing the cache, getting rid of logs,
deleting temporary Internet files, banishing autocomplete search history, and cleaning up
any other tracks that a user leaves after using a PC. No user documents are deleted —
just tracks that the computer records about your activity without your permission!
File size: 2.75 Mb
OS: Windows XP, Vista
SpaceSniffer v.1.0.4
Free
SpaceSniffer is a good, free, disk usage visualization tool. While it does nothing to reclaim space,
it does provide you with a very good overview of what's occupying the nether reaches of your hard disk.
File Size: 864
OS: Windows 2000,Windows XP,Windows Vista
EncryptOnClick v1.3.1.3
Free
Easy to use program that lets you securely encrypt and decrypt files with military grade
256-bit AES encryption that is fully compatible with WinZip 9.
File Size: 1,514 KB
OS: Windows 98/Me/2000/XP/2003 Server
RemoveAny V.2.6.2
Free
Finds and removes spyware, adware, Trojan horses, key-loggers, backdoors, rootkits on your computer.
Recognizes malicious software by watching for suspicious behavior, not by searching for known signatures.
File Size: 289 KB
OS: Windows XP/Vista
Free PC Audit v.1.5.1
Free
This is a freeware system, hardware, and software information tool.
It extracts details of all components of the PC and shows the installed software
with versions and product keys.
Free PC Audit does not require installation and can be used as a portable application.
It can be run from a removable storage device such as a CD ROM drive, USB flash drive, flash card, or floppy disk.
Flie Size: 996k
OS: Win2k/XP/Vista
Highly Recommended

FREE

Software
avast! Home Edition Free
Why choose a high-priced subscription antivirus program that bogs down your PC while protecting it, when avast! can do it better?
avast! is one of the few free antivirus applications that does as good a job as any of the big boys.
avast! includes more than seven different kinds of shields, safe-surfing tools, and real-time virus protection for your OS, as well as Outlook.
avast! updates automatically and frequently and, avast! works with both Windows Vista and XP.
avast! gives you all this, in the free (Not for commercial use) version. More options are available in the Pro version.
avast! requires a simple on-line registration during or after the 60 day trial period to continue uninterupted updates.
avast! has been my anti-virus program for the past 3 years.
Version: 4.8.1335
Operating Systems: Windows XP, Windows Vista (Windows 7 Beta)
Go to the download page now:
avast! Home Edition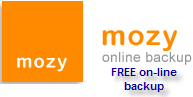 mozy

Free

Safe

Secure

online back-up


I use this every day to keep my important files safe

.


Vista Recovery Discs
Recover data from a damaged Vista system with this little-known Microsoft utility.
Not quite Google


Quick links to almost everything
http://www.allmyfaves.com/
or:
http://mysharedfiles.no-ip.org/AllMyFaves.url

Check out:
Giveaway of the Day

Thanks to ZDNet, PCWorld , Lockergnome.com and many other sources for this nice collection.

You'll find more FreeWare at MySharedFiles

A personal appeal: Please Click here to Help Support MySharedFiles. Thank You

Labels: Baylor, bob3160, clouds, Dallas, Free, freeware, giftoflife, Meadow Lake, MySharedFiles, reunion, Software,
sunset, transplant, weekly