FreeWare W/E 03-27-10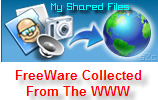 Click here to Help Support MySharedFiles
You'll find more FreeWare at MySharedFiles Continuosly Updated.
XXXXXXXXXXXXXXXXXXXXXXXXXXXXXXXXXXXXXXXXXXXXXXXXXXXXXXXXXXXXX
TeraCopy Home v2.1
Free

This utility inserts itself in place of the Windows file handling functions, adding to the usual right-click option.
TeraCopy's pause function alone is worth the download if you regularly copy large amounts of files and need to stop
the process to perform another disk-intensive task. Windows only lets you cancel--not pause--which makes it difficult
to ascertain exactly where you left off. You may also choose up front whether you want to overwrite all files, older
ones only, skip files that already exist, or rename the file being copied to avoid overwriting the existing files.
TeraCopy seemed a tad faster than Windows in my tests with a large mix of small and large files though a little
slower than the Windows native routine when copying a single very large file.
File Size: 1806 KB
OS: Windows XP, Windows Vista, Windows 7



Troubleshooting Tools for Windows
Free

16 handy tools help you diagnose and cure a wide range of Windows ills, and they're all free for the downloading.


All 16 files

are also available at MySharedFiles in the Tips Tricks Freeware/TroubleShootingTools4Windows section

AVG Rescue CD
Free

This is a powerful must-have toolkit for the rescue and repair of infected machines. It provides essential utilities
for system administrators and other IT professionals and includes many features.



Photo Magician v1.0.0.3
Free

This is a small and easy to use program that allows you to quickly scale and convert your images.
File Size: 376K
OS: Win95/98/Me/2k/XP/Vista/7

BB FlashBack Express
Free

This is a free screen recorder with the best-of-breed recording features of BB FlashBack. It enables you to record
your computer's screen, sound, and webcam, share movies online, or save them as Flash and AVI files.
File Size: 7.84M
OS: Win95/98/Me/2k/XP/Vista/7



Stalled Printer Repair v1.2
Free

This is a portable freeware application to Detect and Repair Stalled Print Jobs.
A print request sent to the printer spooler can become stuck in the spooler queue and cannot be deleted.
Subsequent print or fax jobs sent to the spooler will not print until the first job is cleared from the spooler queue.
Also known as printer spooler restoration.
File Size 656 KB
OS: Windows NT, 2000, XP, or Vista Winsowa 7



SoftPerfect Network Scanner v4.4.6
Free

This is a free multi-threaded IP, NetBIOS, and SNMP scanner with a modern interface and several advanced features.
It is intended for both system administrators and general users who are interested in computer security.
The program pings computers, scans for listening TCP ports and displays which types of resources are shared
on the network (including system and hidden).
File Size: 709KB
OS: WinXP/Vista/7

DVDStyler v1.8.0.2
Free
Notice the Caution!
This is a cross-platform free DVD authoring application for the creation of professional-looking DVDs.
It allows not only burning of video files on DVD that can be played practically on any standalone DVD player,
but also creation of individually designed DVD menus. It is Open Source Software and is completely free.


CAUTION:


DVDStyler will try installing a crapware toolbar, so pay attention during the install process and be sure to

opt out

.
OS: Windows/Linux


Highly Recommended Software

avast! 5 Free Edition Free
Why choose a high-priced subscription antivirus program that bogs down your PC while protecting it, when avast! can do it better?
avast! is one of the few free antivirus applications that does as good a job as any of the big boys.
avast! includes more than seven different kinds of shields, safe-surfing tools, and real-time virus protection for your OS, as well as Outlook.
avast! updates automatically and frequently and, avast! works with Windows XP, Vista and Windows 7.
avast! gives you all this, in the avast! 5 Free version. More options are available in the Premium versions.
avast! has been my anti-virus program for the past 6 years.
For additional features and added protection,
Please click here for the avast! 5 Premium Products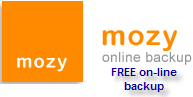 mozy

Free

Safe

Secure

online back-up


I use this every day to keep my important files safe

.


Vista Recovery Discs
Free
Recover data from a damaged Vista system with this little-known Microsoft utility.
Not quite Google


Quick links to almost everything Free
http://www.allmyfaves.com/
or:
http://mysharedfiles.no-ip.org/AllMyFaves.url
Check out:
Giveaway of the Day
Free
Windows '
God Mode
' for Vista and Windows 7
Free

Thanks to ZDNet, PCWorld , Lockergnome.com and many other sources for this nice collection.

You'll find more FreeWare at MySharedFiles

A personal appeal: Please Click here to Help Support MySharedFiles. Thank You

REMEMBER: ORGAN DONORS SAVE LIVES

Labels: Baylor, bob3160, clouds, Dallas, Free, freeware, giftoflife, Meadow Lake, MySharedFiles, reunion, Software, sunset, transplant, weekly