FreeWare W/E 04-17-10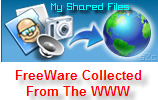 Click here to Help Support MySharedFiles
You'll find more FreeWare at MySharedFiles Continuosly Updated.
XXXXXXXXXXXXXXXXXXXXXXXXXXXXXXXXXXXXXXXXXXXXXXXXXXXXXXXXXXXXX
Synchredible Standard Edition v3.0
Free

synchronizes your data/folders the easy way: several assistants support you on defining scheduled jobs
for data synchronisation and data backup. Network support is integrated for data synchronisation between
local area networks.
This probram can also be used for data backup operations onto internal or external drives (USB1.1/2.0 supported).
File Size: 3.888 KB
OS: Win2k/XP/Vista/7




I use it

to keep MySharedFiles and other things backed up on my computer.



Hashtab v3.0.0
Free

Once you have installed HashTab, just right click on any file. On Windows, select properties and you will see
a new "File Hashes" tab.


OS: Windows (ALL) Mac



EasyBCD v1.7.2
Free

This is an advanced GUI application that makes it easy to modify the Windows bootloader and the entries in it.
EasyBCD is NeoSmart Technologies' multiple award-winning answer to tweaking the Windows bootloader.
File Size: 741 KB
OS: Windows XP / Vista / Windows7



vReveal v2.0
Free

Fix your shaky videos, for free.
With vReveal software for Windows, it's easy to quickly fix the videos from your cell phone, HD camcorder,
digital camera, or other device. Stabilize, brighten, sharpen, add fun effects and more with just one click.
FileSize: 18.5 MB
OS: Windows XP, Vista, 7



FLV Converter 6.7.7
Free

Lightweight and effective, this program is a great way to convert video files from Flash formats
into something useful beyond Web pages. Specializing in formats meant for portable devices,
Free FLV Converter also supports AVI and can download embedded SWF or FLV vids directly from the Internet
when you punch in the URL.
File Size: 6122 KB
OS: Win7/XP/2003/Vista


Highly Recommended Software

avast! 5 Free Edition Free
Why choose a high-priced subscription antivirus program that bogs down your PC while protecting it, when avast! can do it better?
avast! is one of the few free antivirus applications that does as good a job as any of the big boys.
avast! includes more than seven different kinds of shields, safe-surfing tools, and real-time virus protection for your OS, as well as Outlook.
avast! updates automatically and frequently and, avast! works with Windows XP, Vista and Windows 7.
avast! gives you all this, in the avast! 5 Free version. More options are available in the Premium versions.
avast! has been my anti-virus program for the past 6 years.
For additional features and added protection,
Please click here for the avast! 5 Premium Products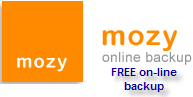 mozy

Free

Safe

Secure

online back-up


I use this every day to keep my important files safe

.


Vista Recovery Discs
Free
Recover data from a damaged Vista system with this little-known Microsoft utility.
Not quite Google


Quick links to almost everything Free
http://www.allmyfaves.com/
or:
http://mysharedfiles.no-ip.org/AllMyFaves.url
Check out:
Giveaway of the Day
Free
Windows '
God Mode
' for Vista and Windows 7
Free

4 kids Of All Ages

Safe programs just for Kids available at MySharedFiles in the Kidz Korner Section.

Thanks to ZDNet, PCWorld , Lockergnome.com and many other sources for this nice collection.

You'll find more FreeWare at MySharedFiles

A personal appeal: Please Click here to Help Support MySharedFiles. Thank You

REMEMBER: ORGAN DONORS SAVE LIVES

Labels: Baylor, bob3160, clouds, Dallas, Free, freeware, giftoflife, Meadow Lake, MySharedFiles, reunion, Software, sunset, transplant, weekly