FreeWare W/E 05-01-10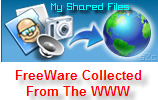 Click here to Help Support MySharedFiles
You'll find more FreeWare at MySharedFiles Continuosly Updated.
XXXXXXXXXXXXXXXXXXXXXXXXXXXXXXXXXXXXXXXXXXXXXXXXXXXXXXXXXXXXX
Quick PDF Tools v2.1.5.8
Free

This is a mighty box of free PDF tools designed specifically to work from within Windows Explorer.
Simple and quick to use, Quick PDF Tools lets you preview PDF files, merge and split PDF files,
edit document properties and initial view settings, add and edit custom metadata, convert images to PDF,
convert PDF to text, add and edit attachments, add and remove JavaScript and much more.
File Size: 2253 KB
OS: Win7/XP/2003/Vista

Kaspersky Rescue Disk v10.0.20.1
Free

This Rescue Disk is a safe way to remove viruses from a computer without the risk of getting infected.
Boot from the Kaspersky Rescue Disk to scan and remove threats from an infected computer without the risk
of infecting other files or computers.
Burn this ISO image to a CD/DVD, insert it into the infected system's CD/DVD-ROM drive, enter the PC's BIOS,
set it to boot from the CD/DVD and reboot the computer.
File Size: 186541 KB
OS: Win7/XP/2003/Vista

Jing v2.3
Free

This utility lets you capture anything on your screen as a static image or a movie, then save it or store it
on TechSmith's server for free. You can share images and movies quickly and easily while chatting or e-mailing,
to help you get a point across. It's great for tech support or working remotely.
File Size: 8389 KB
OS: Windows XP,Windows Vista,Windows 7

Eusing Free Internet Window Washer v2.8
Free

This utility allows you to erase Window's temp folders, run history, search history, open/save history,
recent documents, your browser's cache, cookies, history, visited URLs, typed URLs, auto complete memory,
index.dat files, and much more. You can also easily erase the tracks of up to 100 popular applications.
File Size: 1777 KB
OS: Windows XP,Windows NT,Windows 2000,Windows 9.x,Windows Me,Windows Vista,Windows Server 2003,Windows 7

ChromePlus v1.3.9.0
Free

This browser has all the functionality of Google Chrome, is free with no function limitation,
and adds useful features such as: double click tab to close page; mouse gestures; super drag; IE tab;
and download tools supported in context menu.
File Size: 18.16M
OS: WinXP/Vista/7 - Linux



VLC v1.05
Free

For several years VLC has been the open-source media player of choice for many video connoisseurs.
It works on multiple OSes, and is light and fast. This version gets several new features, including
the ability to record all media on the fly.
File Size: 18067 KB
OS: Windows XP, Windows 2000, Windows Vista, Windows 7



Remove Fake Antivirus 1.64
Free

This utility is used to remove fake Antivirus software which are actually viruses or trojans.
File Size: 212 KB
OS: Win7/XP/2003/Vista

Highly Recommended Software

avast! 5 Free Edition Free
Why choose a high-priced subscription antivirus program that bogs down your PC while protecting it, when avast! can do it better?
avast! is one of the few free antivirus applications that does as good a job as any of the big boys.
avast! includes more than seven different kinds of shields, safe-surfing tools, and real-time virus protection for your OS, as well as Outlook.
avast! updates automatically and frequently and, avast! works with Windows XP, Vista and Windows 7.
avast! gives you all this, in the avast! 5 Free version. More options are available in the Premium versions.
avast! has been my anti-virus program for the past 6 years.
For additional features and added protection,
Please click here for the avast! 5 Premium Products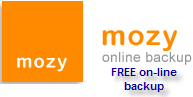 mozy

Free

Safe

Secure

online back-up


I use this every day to keep my important files safe

.


Vista Recovery Discs
Free
Recover data from a damaged Vista system with this little-known Microsoft utility.
Not quite Google


Quick links to almost everything Free
http://www.allmyfaves.com/
or:
http://mysharedfiles.no-ip.org/AllMyFaves.url
Check out:
Giveaway of the Day
Free
Windows '
God Mode
' for Vista and Windows 7
Free

4 kids Of All Ages

Safe programs just for Kids available at MySharedFiles in the Kidz Korner Section.

Thanks to ZDNet, PCWorld , Lockergnome.com and many other sources for this nice collection.

You'll find more FreeWare at MySharedFiles

A personal appeal: Please Click here to Help Support MySharedFiles. Thank You

REMEMBER: ORGAN DONORS LIVE EXTENDED LIVES

Labels: Baylor, bob3160, clouds, Dallas, Free, freeware, giftoflife, Meadow Lake, MySharedFiles, reunion, Software, sunset, transplant, weekly