FreeWare W/E 05-08-10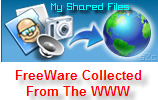 Click here to Help Support MySharedFiles
You'll find more FreeWare at MySharedFiles Continuosly Updated.
XXXXXXXXXXXXXXXXXXXXXXXXXXXXXXXXXXXXXXXXXXXXXXXXXXXXXXXXXXXXX
Panda Cloud Antivirus v1.0.84
Free

This Antivirus protects you while you browse, play or work and you won't even notice it.
It is extremely light as all the work is done in the cloud.
(Since I don't use it, I can't vouch for it's effectivenes.)
File Size: 23148 KB
OS: Win7/XP/2003/Vista



Easy2Sync for Files v1.39
Free

Easy2Sync is a way to synchronize your files on your computers, notebooks and servers.
It was designed to accommodate many special cases to protect your files. Internally,
it uses more than 200 rules to safely synchronize your data.
File Size: 4371 KB
OS: Win7/XP/2003/Vista



PureSync v2.5.3
Free

This is a free file synchronizer and backup tool. Synchronize files and folders, back up files and complete folders,
control what will be synced in which direction, and more.
File Size: 6.53M
OS: Win95/98/Me/2k/XP/Vista/7

F-Secure Health Check
Free

This is a free application that tells you if your computer is protected and helps you fix possible security issues.
System requirements are detailed on the website.



Explorer++ 1.1
Free

This is a free multi-tab file manager for Windows.
Available on Windows XP and above, it features the
same familiar interface as Windows Explorer, while
introducing several enhancements and improvements for a
much richer file browsing experience.
File Size: 363 KB
OS: Win7/XP/2003/Vista

WirelessKeyView v1.34
Free

WirelessKeyView recovers all wireless network security keys/passwords (WEP/WPA) stored in your computer
by the 'Wireless Zero Configuration' service of Windows XP and by the 'WLAN AutoConfig' service of Windows Vista / Win7.
It allows you to easily save all keys to text/html/xml file, or copy a single key to the clipboard.
File Size: 52.27KB
OS: Win2k/XP/Vista/7

Calibrize v2.0
Free

Calibrize is free software that helps you to calibrate the colors of your monitor in three simple steps.
Just download the software and follow the procedure to generate a reliable color 'profile' and adjust the colors
of your monitor automatically.
File Size: 1.15 MB
OS: Windows XP/Vista/7

Wubi v10.04
Free

Are you curious about Linux and Ubuntu? Wubi is an officially supported Ubuntu installer for Windows users
that can bring you to the Linux world with a single click.
Wubi does not require you to modify the partitions of your PC, or to use a different bootloader,
and does not install special drivers.
File Size: 1,435 KB
OS: Windows / All
Highly Recommended Software

avast! 5 Free Edition Free
Why choose a high-priced subscription antivirus program that bogs down your PC while protecting it, when avast! can do it better?
avast! is one of the few free antivirus applications that does as good a job as any of the big boys.
avast! includes more than seven different kinds of shields, safe-surfing tools, and real-time virus protection for your OS, as well as Outlook.
avast! updates automatically and frequently and, avast! works with Windows XP, Vista and Windows 7.
avast! gives you all this, in the avast! 5 Free version. More options are available in the Premium versions.
avast! has been my anti-virus program for the past 6 years.
For additional features and added protection,
Please click here for the avast! 5 Premium Products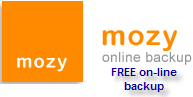 mozy

Free

Safe

Secure

online back-up


I use this every day to keep my important files safe

.


Vista Recovery Discs
Free
Recover data from a damaged Vista system with this little-known Microsoft utility.
Not quite Google


Quick links to almost everything Free
http://www.allmyfaves.com/
or:
http://mysharedfiles.no-ip.org/AllMyFaves.url
Check out:
Giveaway of the Day
Free
Windows '
God Mode
' for Vista and Windows 7
Free

4 kids Of All Ages

Safe programs just for Kids available at MySharedFiles in the Kidz Korner Section.

Thanks to ZDNet, PCWorld , Lockergnome.com and many other sources for this nice collection.

You'll find more FreeWare at MySharedFiles

A personal appeal: Please Click here to Help Support MySharedFiles. Thank You

REMEMBER: ORGAN DONORS LIVE EXTENDED LIVES

Labels: Baylor, bob3160, clouds, Dallas, Free, freeware, giftoflife, Meadow Lake, MySharedFiles, reunion, Software, sunset, transplant, weekly