FreeWare W/E 06-05-10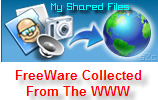 Click here to Help Support MySharedFiles
You'll find more FreeWare at MySharedFiles Continuously Updated.
XXXXXXXXXXXXXXXXXXXXXXXXXXXXXXXXXXXXXXXXXXXXXXXXXXXXXXXXXXXXX
WinBubbles
Free

Tweak Windows Vista and Windows 7 in multiple ways with this useful utility.
File Size: 599 KB
OS: Vista/7



Fresh HTML v3.48
Free

This is a full-featured HTML designer that was designed to be easy to use for beginners as well
as feature rich for advanced users. Its WYSIWYG interface makes editing HTML pages as easy as using
a word processor. Its built-in editor allows advanced users to fine-tune HTML codes to fit their needs.
File Size: 3.44M
OS: Win95/98/Me/2k/XP/Vista/7

Nuance PDF Reader V6.0
Free

This PDF utility is a simple, straightforward free PDF reader with a twist--
it does the best job of any PDF program I've tried at converting PDF files to Word, Excel or
WordPerfect files. For that alone, this free program is well worth the download.
File Size: 18578
OS: Windows XP,Windows Vista,Windows 7

SmillaEnlarger v0.9.0
Free

This graphical utility is a small tool ( based on Qt ) to resize, especially magnify bitmaps in high quality.
Have you ever tried to enlarge an image and ended up with lots of fuzzy pixels? SmillaEnlarger is a tool that
lets you magically zoom in on an image and enlarge it with amazingly sharp results. You can crop before enlarging,
and use filters--sharpening or flattening, for instance--to play around with the image. There's no installation;
download and unzip SmillaEnlarger and it's ready to run.
File Size: 7.0 MB
OS: Windows XP,Windows Vista,Windows 7

WinUtilities Free Edition v9.7
Free

This utility is a multi-functional system performance and optimization suite for Microsoft Windows.
This collection of tools lets you supercharge your PC's performance, enhance its security,
tweak and optimize its settings, and customize and personalize your screens. Registry Cleaner makes
your system more stable by cleaning out the bad Registry entries that build up each time you install
and uninstall software. The program's Registry Optimizer defragments and rebuilds your Registry,
making your entire system run more smoothly and quickly.
File Size: 8196 KB
OS: Win7/XP/2003/Vista

Taskbar Eliminator v2.9
Free

With just the click of a button, the taskbar is disabled from any side of the screen, providing the freedom
to use any dock application, increase computer security, or allow all sorts of Windows customizations.
The taskbar can be toggled on and off in real-time, providing the flexibility to quickly view the taskbar
to perform an action.
File Size: 565 KB
OS: Win7/XP/2003/Vista

Highly Recommended Software

avast! 5 Free Edition Free
Why choose a high-priced subscription antivirus program that bogs down your PC while protecting it, when avast! can do it better?
avast! is one of the few free antivirus applications that does as good a job as any of the big boys.
avast! includes more than seven different kinds of shields, safe-surfing tools, and real-time virus protection for your OS, as well as Outlook.
avast! updates automatically and frequently and, avast! works with Windows XP, Vista and Windows 7.
avast! gives you all this, in the avast! 5 Free version. More options are available in the Premium versions.
avast! has been my anti-virus program for the past 6 years.
For additional features and added protection,
Please click here for the avast! 5 Premium Products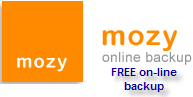 mozy

Free

Safe

Secure

online back-up


I use this every day to keep my important files safe

.


Vista Recovery Discs
Free
Recover data from a damaged Vista system with this little-known Microsoft utility.
Not quite Google


Quick links to almost everything Free
http://www.allmyfaves.com/
or:
http://mysharedfiles.no-ip.org/AllMyFaves.url
Check out:
Giveaway of the Day
Free
Windows '
God Mode
' for Vista and Windows 7
Free

4 kids Of All Ages

Safe programs just for Kids available at MySharedFiles in the Kidz Korner Section.

Thanks to ZDNet, PCWorld , Lockergnome.com and many other sources for this nice collection.

You'll find more FreeWare at MySharedFiles

A personal appeal: Please Click here to Help Support MySharedFiles. Thank You

REMEMBER: ORGAN DONORS LIVE EXTENDED LIVES

Labels: Baylor, bob3160, clouds, Dallas, Free, freeware, giftoflife, Meadow Lake, MySharedFiles, reunion, Software, sunset, transplant, weekly