FreeWare W/E 06-26-10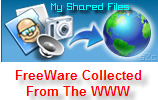 Click here to Help Support MySharedFiles
You'll find more FreeWare at MySharedFiles Continuously Updated.
XXXXXXXXXXXXXXXXXXXXXXXXXXXXXXXXXXXXXXXXXXXXXXXXXXXXXXXXXXXXX
EASEUS Partition Master Home Edition v5.8.1
Free

As Partition Magic alternative, EASEUS Partition Master freeware is an ALL-IN-ONE partition solution
and the most convenient hard disk partition manager toolkit including Partition Manager,
Disk & Partition Copy Wizard and Partition Recovery Wizard.
It allows users to Resize/Move Partition, Extend System Drive, Copy Disk & Partition, Merge Partition,
Split Partition, Redistribute Free Space, Convert Dynamic Disk, Partition Recovery and much more.
File Size: 11344 KB
OS: Windows 2000, Windows XP, Windows Vista, Windows 7

PickPick v2.3.0
Free

This is an all-in-one program that provides full-featured screen capture tool, intuitive image editor,
color picker, color palette, pixel ruler, protractor, crosshair and even whiteboard.
It not only has everything you need in a screen capture program, but it loads fast and, sits quietly
in the system tray until needed.
This software is provided as freeware for personal use
only
.


Caution:




If you don't want the bing Toolbar, uncheck it's option during the install process.



Microsoft's Image Composite Editor (ICE) v1.3.5
Free

This is an advanced panoramic image stitcher. Given a set of overlapping photographs of a scene shot
from a single camera location, the application creates a high-resolution panorama that seamlessly
combines the original images.
New features through version 1.3.5
* Accelerated stitching on multiple CPU cores
* Ability to publish, view, and share panoramas on the Photosynth web site
* Support for "structured panoramas" — panoramas consisting of hundreds of
photos taken in a rectangular grid of rows and columns (usually by a robotic
device like the GigaPan tripod heads)
* No image size limitation — stitch gigapixel panoramas
* Support for input images with 8 or 16 bits per component
* Ability to read raw images using WIC codecs
* Photoshop layer and large document support
File Size: (32bit) 3.20 MB - (64bit) 3.19 MB
OS: Windows XP, Windows Vista, Windows 7.

JonDoFox v2.3.0
Free

This utility allows you to create a customized Firefox profile that automatically uses the program,
as well as a number of privacy and security-themed Firefox addons, to allow for anonymous, protected
surfing. It's a nicely configured setup that takes very little effort to set up.
Requirements: 32- or 64-bit OS, Mozilla Firefox
File Size: 12089 KB
OS: Macintosh, Linux, Windows 2000, Windows XP, Windows Vista, Windows 7

Highly Recommended Software

avast! 5 Free Edition Free
Why choose a high-priced subscription antivirus program that bogs down your PC while protecting it, when avast! can do it better?
avast! is one of the few free antivirus applications that does as good a job as any of the big boys.
avast! includes more than seven different kinds of shields, safe-surfing tools, and real-time virus protection for your OS, as well as Outlook.
avast! updates automatically and frequently and, avast! works with Windows XP, Vista and Windows 7.
avast! gives you all this, in the avast! 5 Free version. More options are available in the Premium versions.
avast! has been my anti-virus program for the past 6 years.
For additional features and added protection,
Please click here for the avast! 5 Premium Products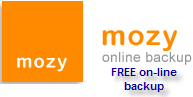 mozy

Free

Safe

Secure

online back-up


I use this every day to keep my important files safe

.


Vista Recovery Discs
Free
Recover data from a damaged Vista system with this little-known Microsoft utility.
Not quite Google


Quick links to almost everything Free
http://www.allmyfaves.com/
or:
http://mysharedfiles.no-ip.org/AllMyFaves.url
Check out:
Giveaway of the Day
Free
Windows '
God Mode
' for Vista and Windows 7
Free

4 kids Of All Ages

Safe programs just for Kids available at MySharedFiles in the Kidz Korner Section.

Thanks to ZDNet, PCWorld , Lockergnome.com and many other sources for this nice collection.

You'll find more FreeWare at MySharedFiles

A personal appeal: Please Click here to Help Support MySharedFiles. Thank You

REMEMBER: ORGAN DONORS LIVE EXTENDED LIVES

Labels: Baylor, bob3160, clouds, Dallas, Free, freeware, giftoflife, Meadow Lake, MySharedFiles, reunion, Software, sunset, transplant, weekly