FreeWare W/E 07-24-10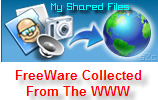 Click here to Help Support MySharedFiles
You'll find more FreeWare at MySharedFiles Continuously Updated.
XXXXXXXXXXXXXXXXXXXXXXXXXXXXXXXXXXXXXXXXXXXXXXXXXXXXXXXXXXXXX
Evalaze Tech Preview v0.8.4.24312
Free

Software virtualization is a technology to run software applications without
having to install it in the "traditional" way. The applications run in a closed
system for themselves, the virtual sandbox.
This technology enables the operation of multiple applications on the same
system. Thus, for example, an Internet Explorer 6, 7, 8 and 9 can
simultaneously operate on a system.
Old applications can be used on new and modern operating systems again,
and a virtualized application is portable.
File Size: 3.17MB
Windows XP, Vista, Win 7

PureText v2.0
Free

The easiest way to use PureText is to simply use its hot-key to paste text
instead of using the standard CTRL+V hot-key that is built into most Windows
applications. To configure PureText, right-click on its tray icon and choose
"Options" from the pop-up menu. The default hot-key is WINDOWS+V, but
this can be changed. In this Options window, you can also configure PureText
to run each time you log into Windows.
File Size 13 KB
OS: Windows / All

Affixa
Free

Making your webmail part of Windows.
What is Affixa?
Affixa makes your webmail account part of Windows;
Affixa makes gathering and preparing the files you want to send easy;
Affixa gives you the choice of which web or desktop mail system you use and when.
All the features available in Windows that were once only available to your desktop
mail-using friends are now available to everyone!

Format Factory v2.45
Free

This multimedia utility is a multifunctional media converter.
Provides the following functions:
All to MP4/3GP/MPG/AVI/WMV/FLV/SWF.
All to MP3/WMA/AMR/OGG/AAC/WAV.
All to JPG/BMP/PNG/TIF/ICO/GIF/TGA.
Rip DVD to video file , Rip Music CD to audio file.
MP4 files support iPod/iPhone/PSP/BlackBerry format.
Supports RMVB,Watermark, AV Mux.
Windows /All 32bit systems

Highly Recommended Software

avast! 5 Free Edition Free
Why choose a high-priced subscription antivirus program that bogs down your PC while protecting it, when avast! can do it better?
avast! is one of the few free antivirus applications that does as good a job as any of the big boys.
avast! includes more than seven different kinds of shields, safe-surfing tools, and real-time virus protection for your OS, as well as Outlook.
avast! updates automatically and frequently and, avast! works with Windows XP, Vista and Windows 7.
avast! gives you all this, in the avast! 5 Free version. More options are available in the Premium versions.
avast! has been my anti-virus program for the past 7 years.
For additional features and added protection,
Please click here for the avast! 5 Premium Products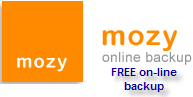 mozy

Free

Safe

Secure

online back-up


I use this every day to keep my important files safe

.


Vista Recovery Discs
Free
Recover data from a damaged Vista system with this little-known Microsoft utility.
Not quite Google


Quick links to almost everything Free
http://www.allmyfaves.com/
or:
http://mysharedfiles.no-ip.org/AllMyFaves.url
Check out:
Giveaway of the Day
Free
Windows '
God Mode
' for Vista and Windows 7
Free

4 kids Of All Ages

Safe programs just for Kids available at MySharedFiles in the Kidz Korner Section.

Thanks to ZDNet, PCWorld , Lockergnome.com and many other sources for this nice collection.

You'll find more FreeWare at MySharedFiles

A personal appeal: Please Click here to Help Support MySharedFiles. Thank You

REMEMBER: ORGAN DONORS LIVE EXTENDED LIVES

Labels: Baylor, bob3160, clouds, Dallas, Free, freeware, giftoflife, Meadow Lake, MySharedFiles, reunion, Software, sunset, transplant, weekly