FreeWare W/E 07-31-10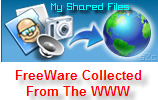 Click here to Help Support MySharedFiles
You'll find more FreeWare at MySharedFiles Continuously Updated.
XXXXXXXXXXXXXXXXXXXXXXXXXXXXXXXXXXXXXXXXXXXXXXXXXXXXXXXXXXXXX
System Spec v2.75
Free

This utility displays exhaustive information about your system,
including details on memory usage, CPU speed, options and features your
graphic card supports
(or doesn't), and much more. It also includes access to a wide range of
system functions.
File Size: 2239
OS: Windows 2000,Windows XP,Windows Vista,Windows 7



Quick Clean v1.0
Free

This utility provides a simple way to clean junk files from your PC.
Launch the program, and you have two options:
"Run Disk Cleanup Utility," and "Clean more junk files." Clicking "Clean
more junk files" gets rid of files that the built-in Windows disk
cleaner doesn't handle.
File Size: 61
OS: Windows Vista,Windows 7



TSR Watermark Image software

v1.7.1.5
Free

This utility can add digital watermarks to all your images, photos and
pictures with the transparency you decide. The program can also resize
the images before the digital watermark is added.
File Size: 361 KB
OS: WinXP/Vista/7

Zipeg v2.9.0.1177
Free

This is a free alternative to WinZip, WinRar, and StuffIt.
Zipeg supports: ZIP, RAR, 7z, ARJ, LHA, TGZ, TAR, and many more.
Preview image files instantly or open them in external applications.
File Size: 1.3 MB
OS: XP, Vista and Windows 7

WeFi v4.0.0.16
Free

This utility enables reliable connection to Wi-Fi wherever wireless
networks are available, and helps keep you connected to the fastest most
reliable network around. Any WeFi users has the possibility to
automatically move between open Wi-Fi networks, with no need to manually
choose or click around between new networks.
File Size: 11895 KB
OS: Win7/XP/2003/Vista

Granola v3.0.3
Free

This utility makes computers more energy efficient without slowing them
down. Granola is safe, easy to use, and allows your computer to operate
with the performance of a Ferrari when speed counts but also with the
efficiency of a Prius so you don't waste energy. Help save the world
with Granola.
Safe for any computer
Smaller than a single MP3
Save energy
Maintain performance
Install easily and forget it
File Size: 4.55 MB
OS: Win7/Vista/XP



Little Registry Cleaner v1.4.2
Free

This utility is one of the nicest and easiest of all the registry
cleaners (open source or not). This tool puts you a mere two clicks away
from fixing your registry. But LRC doesn't limit you to only scanning
and fixing your registry. LRC also offers the following features:
Detects and removes unnecessary and/or inaccurate registry entries from
the registry
Offers an easy to use Startup Manager to control what applications are
starting at boot
Opens regedit from a menu entry
Includes Ignore List
Gives you Registry restore ability
Allows you to uninstall applications with an Application Manager
Provides a simple user interface
File Size 4.6 MB

Highly Recommended Software

avast! 5 Free Edition Free
Why choose a high-priced subscription antivirus program that bogs down your PC while protecting it, when avast! can do it better?
avast! is one of the few free antivirus applications that does as good a job as any of the big boys.
avast! includes more than seven different kinds of shields, safe-surfing tools, and real-time virus protection for your OS, as well as Outlook.
avast! updates automatically and frequently and, avast! works with Windows XP, Vista and Windows 7.
avast! gives you all this, in the avast! 5 Free version. More options are available in the Premium versions.
avast! has been my anti-virus program for the past 7 years.
For additional features and added protection,
Please click here for the avast! 5 Premium Products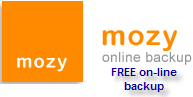 mozy

Free

Safe

Secure

online back-up


I use this every day to keep my important files safe

.


Vista Recovery Discs
Free
Recover data from a damaged Vista system with this little-known Microsoft utility.
Not quite Google


Quick links to almost everything Free
http://www.allmyfaves.com/
or:
http://mysharedfiles.no-ip.org/AllMyFaves.url
Check out:
Giveaway of the Day
Free
Windows '
God Mode
' for Vista and Windows 7
Free

4 kids Of All Ages

Safe programs just for Kids available at MySharedFiles in the Kidz Korner Section.

Thanks to ZDNet, PCWorld , Lockergnome.com and many other sources for this nice collection.

You'll find more FreeWare at MySharedFiles

A personal appeal: Please Click here to Help Support MySharedFiles. Thank You

REMEMBER: ORGAN DONORS LIVE EXTENDED LIVES

Labels: Baylor, bob3160, clouds, Dallas, Free, freeware, giftoflife, Meadow Lake, MySharedFiles, reunion, Software, sunset, transplant, weekly