FreeWare W/E 08-07-10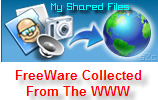 Click here to Help Support MySharedFiles
You'll find more FreeWare at MySharedFiles Continuously Updated.
XXXXXXXXXXXXXXXXXXXXXXXXXXXXXXXXXXXXXXXXXXXXXXXXXXXXXXXXXXXXX
Soluto Beta
Free

This utility allows you to understand your boot, discover which applications
are slowing it down (and keep running later in the background, affecting your
ongoing experience), and allows you to significantly improve it. While Soluto
Beta focuses on the boot, it already researches for frustrations and helps
map the PC Genome, and allows you to share your wisdom with others.
File Size: 905
OS: Windows XP,Windows Vista,Windows 7



Hotspot Shield v1.34
Free

This utility promises to encrypt all of your data and packets while you're in
a public location, shielding you from any danger. The program is simplicity
itself: Just install it and run it.
File Size: 5029
OS: Windows 2000,Windows XP,Windows Vista, Windows 7



Disk2vhd v1.62
Free

This is a utility that creates VHD (Virtual Hard Disk - Microsoft's Virtual
Machine disk format) versions of physical disks for use in Microsoft Virtual
PC or Microsoft Hyper-V virtual machines (VMs). The difference between
Disk2vhd and other physical-to-virtual tools is that you can run Disk2vhd on
a system that's online. Disk2vhd uses Windows' Volume Snapshot capability,
introduced in Windows XP, to create consistent point-in-time snapshots of the
volumes you want to include in a conversion. You can even have Disk2vhd
create the VHDs on local volumes, even ones being converted (though
performance is better when the VHD is on a disk different than ones being
converted)
File Size 811 KB
OS: Windows 7

Redo Backup and Recovery v0.9.4
Free

This backup utility is so simple that anyone can use it. It is the easiest,
most complete disaster recovery solution available. It allows bare-metal
restore, which means that even if your hard drive melts or gets completely
erased by a virus, you can have a completely-functional system back up and
running in as little as 10 minutes.
All your documents and settings will be restored to the exact same state they
were in when the last snapshot was taken.
Redo Backup and Recovery works with Windows and Linux systems, so you can use
the same tool for every machine. And because it is open source released under
the GPL, it is completely free for personal and commercial use.
File Size: 75.5 MB
OS: Windos, Linux



Hamster Free Video Converter v1.0.0.12
Free

This is a new, free, brilliant video converter that makes video conversions
fun. It converts to 3GP, MP3, MP4, AVI, MPG, WMV, MPEG, FLV, HD, DVD,
M2TS, and others. You can convert video for any DVD player, iPod, iPhone, iPad,
Archos, Zune, PSP, HTC, or Nokia in three clicks. You'll like the
customizable interface — tune it to your own taste.
File Size: 17.67 MB
OS: Win2k/XP/Vista/7



Disk SpeedUp 1.0.0.262
Free

This is an extremely fast defragmentation tool developed by Glarysoft to
analyze, defrag and optimize disks or a single file/folder for peak computer
performance. Disk SpeedUp can analyze all fragments on drives and show how
fragmented the drives are before you defrag. You can get an intuitive view of
drive fragmentation through the drive map if you choose analyze selected and
also get a new view of the defragged disk analysis result after a successful
defrag.
File Size: 2,114 KB
OS: Windows / All


Highly Recommended Software

avast! 5 Free Edition Free
Why choose a high-priced subscription antivirus program that bogs down your PC while protecting it, when avast! can do it better?
avast! is one of the few free antivirus applications that does as good a job as any of the big boys.
avast! includes more than seven different kinds of shields, safe-surfing tools, and real-time virus protection for your OS, as well as Outlook.
avast! updates automatically and frequently and, avast! works with Windows XP, Vista and Windows 7.
avast! gives you all this, in the avast! 5 Free version. More options are available in the Premium versions.
avast! has been my anti-virus program for the past 7 years.
For additional features and added protection,
Please click here for the avast! 5 Premium Products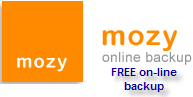 mozy

Free

Safe

Secure

online back-up


I use this every day to keep my important files safe

.


Vista Recovery Discs
Free
Recover data from a damaged Vista system with this little-known Microsoft utility.
Not quite Google


Quick links to almost everything Free
http://www.allmyfaves.com/
or:
http://mysharedfiles.no-ip.org/AllMyFaves.url
Check out:
Giveaway of the Day
Free
Windows '
God Mode
' for Vista and Windows 7
Free

4 kids Of All Ages

Safe programs just for Kids available at MySharedFiles in the Kidz Korner Section.

Thanks to ZDNet, PCWorld , Lockergnome.com and many other sources for this nice collection.

You'll find more FreeWare at MySharedFiles

A personal appeal: Please Click here to Help Support MySharedFiles. Thank You

REMEMBER: ORGAN DONORS LIVE EXTENDED LIVES

Labels: Baylor, bob3160, clouds, Dallas, Free, freeware, giftoflife, Meadow Lake, MySharedFiles, reunion, Software, sunset, transplant, weekly