9-5-2012 Rockland PC Users Group and JCC in Rockland County NY
The flight from Albuquerque to Minneapolis was uneventful and so was the flight from
Minneapolis to NY's La Guardia airport until we came to within 120 miles of NY.
At that point, the pilot informed us that there where some weather delays and we might be delayed
by about 1 hr.
15 minutes later came the next announcement: We're low on fuel and are being diverted to Syracuse NY for
refueling. About 1 1/2 hrs later, we were airborne again and on our way to the original destination.
The landing was smooth as silk at La Guardia. Unfortunately they didn't have a gate available and we sat on the tarmac
for some time. Once they finally assigned us a gate, and we pulled up to the Jetway, we where told that the Jetway had been set up for a
larger plane and they where not able to align it with or smaller plane due to mechanical difficulties with the Jetway.
At about 11 PM, the problem was finally solved and we where able to get off the pane. The plane was originally supposed to land at 5 PM.
The important part is that I did arrive safe and sound despite all of the delays. My seat assignment for that plane was 13 A.
I think I'll stay away from row 13 on any future flight I take.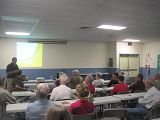 Getting ready for the presentation at Rockland PC UG.
(click image to Enlarge)
On Sept 5th, I had 2 presentations. The afternoon session was held at the
Jewish Community Campus in West Nyack , NY, and had 29 attendees.
The presentation was followed by a Q&A session.
That evening at 7 PM following the Rockland PC Users Group's Q&A session,
I did my presentation for the 38 members that attended the meeting.
Question where taken and answered as they came up during the presentation and unrelated question where discussed after the presentation.
The Rockland PC Users Group is another great source for answers to computer related problems and,
if you live in the Nyack, NY area is a Users Group worth checking out.