9-6-2012 Westchester P C Users Group

On 9/6/2012 my avast! presentation took me to the
Westchester PC Users Group in Westchester County NY.
The presentation was well received by the 52 member who where in attendance. The members also had a lot of questions some of these
came during the presentation and the rest where asked during the Q&A session that followed the presentation.
As you can see from their website, this club is very active and if you live in the area is a club worth joining.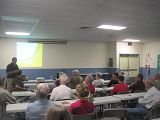 (Click image to Enlarge)