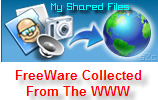 FreeWare 10-17-08
Click here to Help Support MySharedFiles
October is

awareness month.
My wife Alice, is one of the lucky ones. She's a breast cancer survivor.
Early detection and lot's of faith are the key to beating this dreadful desease.
We can ALL help by visiting
This Site
.
Thanks.
FotoTagger 2.13
Free
FotoTagger is a free software tool for annotating JPEG images quickly and easily. Place on an image location-specific
annotation notes that point to people or other elements.

FotoTagger lets you publish annotated pictures to blogs at Blogger.com and LiveJournal, as well as share annotated images through Web and email.
Annotations do not change an original image so moving and sharing files keep annotations intact.

Fize Size:3298KB
OS:Win2000/XP/2003/Vista
Click here to download the program
ExtractNow Free
Rapidly extract more than one archived file at a time, with one click of a button.
OS: Windows XP/Vista
Click here to download the program
EPrompter
v. 2
Free

There are so many free Web-based e-mail programs available---Gmail, Yahoo Mail, and others--
that many people use multiple ones. That's certainly useful, but it can be painful as well. It means manually checking
each account multiple times throughout the day--a productivity-killer, if there ever was one. EPrompter solves the problem neatly.
It automatically checks all of your Web-based e-mail automatically every 15 minutes, and alerts you when any has new mail.
You'll be able to do this for up to 16 different accounts. In addition, you don't even have to log into the different Web-based mail systems
in order to see your inbox, read your messages, and respond to them--you can do all of that from directly within the program.
You can also delete mail as well.
File Size: 909k
OS: Windows Vista, Windows XP, Windows 2000, Windows Me, Windows NT, Windows 98
Go to the download page now:
Click here to download the program
DownThemAll v. 1.0.3 Free
DownThemAll (or just dTa) is a powerful yet easy-to-use Mozilla Firefox extension that adds new advanced download capabilities
to your browser. DownThemAll lets you download all the links or images contained in a webpage and much more: you can refine
your downloads by fully customizable criteria to get only what you really want. DownThemAll is all you can desire from a download manager:
it features an advanced accelerator that increases speed up to 400%, it allows you to pause and resume downloads at any time and,
last but not least, it's fully integrated into your favorite browser!
File Size: 488k
OS: Windows - All, Macintosh, Linux
Requirements: Firefox browser
DownThemAll
Foxmarks Bookmark Synchronizer
Works silently in the background to keep your bookmarks synchronized across multiple computers.
Requirements: Firefox browser
PhotoScape 3.2 Free
This is an all-in-one style photo editor with fun and ease of use. Major capabilities are: viewer, editor, batch editor, page, combine,
animated GIF, print, splitter, screen capture, color picker, rename, raw converter, resizing, brightness/color/white-balance adjustment,
backlight correction, frames, balloons, text, drawing pictures, cropping, filters, red eye removal and blooming.
PhotoScape has been used for two years and is expanding its features continuously.
O.S.: Windows 98/Me/NT/2000/XP/Vista
Jtvmaker 3.7 Free
Mp3 Slideshow Generator and Album Generator for photo sharing.
The Jtvmaker application was designed to be a web slideshow generator and album generator.

System Explorer Free
This is a system analyzing tool that lets you take a sneak peek at everything that's going on in your system,
including active processes, installed drivers, startup applications and more.
You can end any active process or delete items from the startup menu.

SlimBrowser Free
A compact tabbed browser with full unicode support that includes a pop-up blocker, automatic Web-form filler,
spell-checker and the ability to open several sites at once with the support of site groups.
OS: Windows 98/Me/NT/2000/XP/2003 Server/Vista
Highly Recommended

FREE

Software
avast! Home Edition Free
Why choose a high-priced subscription antivirus program that bogs down your PC while protecting it, when avast! can do it better?
avast! is one of the few free antivirus applications that does as good a job as any of the big boys.
avast! includes more than seven different kinds of shields, safe-surfing tools, and real-time virus protection for your OS, as well as Outlook.
avast! updates automatically and frequently and, avast! works with both Windows Vista and XP.
avast! gives you all this, in the free (Not for commercial use) version. More options are available in the Pro version.
avast! requires a simple on-line registration during or after the 60 day trial period to continue uninterupted updates.
avast! has been my anti-virus program for the past 3 years.
Version: 4.8.1229
Operating Systems: Windows XP, Windows Vista
Go to the download page now:
avast! Home Edition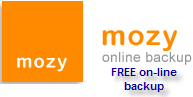 mozy

Free

Safe

Secure

online back-up


I use this every day to keep my important files safe

.


Vista Recovery Discs
Recover data from a damaged Vista system with this little-known Microsoft utility.
Website of Websites
I recommend adding this to your 'Favorites' or 'Bookmarks'

Check out:
Giveaway of the Day

Thanks to ZDNet, PCWorld , Lockergnome.com and many other sources for this nice collection.

You'll find more FreeWare at MySharedFiles

A personal appeal: Please Click here to Help Support MySharedFiles. Thank You

Labels: Baylor, bob3160, clouds, Dallas, Free, freeware, giftoflife, Meadow Lake, MySharedFiles, reunion, Software,
sunset, transplant, weekly