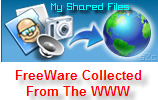 FreeWare 01-02-09
Click here to Help Support MySharedFiles
Buddi 3.2.2.4
Free
This is a personal finance and budgeting program, aimed at those who have
little or no financial background.
Req: Windows 98/Me/NT/2000/XP/Vista,
Java Runtime Environment 1.5
Vit Registry Fix v.9.0
Free
This is a little program for fixing errors in your registry.
OS: Windows XP, Windows Vista and Windows Seven (32-bit/64-bit)
Direct download
availabe here
Auslogics Disk Defrag v.1.5.21.340
Free
Disk fragmentation leads to system slowdowns, PC crashes, slow startup and shutdown
and sometimes to system failures. Auslogics Disk Defrag® is designed for fast optimization
of today's modern hard disks. Get the maximum performance out of your expensive
hardware investments.
O.S.: Windows XP/2000/2003 and Vista
Tidy Favorites v.3.53
Free
If you're not happy with Firefox's favorites manager, and want a visual way to manage your bookmarks,
consider Tidy Favorites. This one download is a Firefox and Internet Explorer add-in, and displays
thumbnails of your favorites inside a Firefox tab. You can easily copy, delete, and update them,
drag and drop them inside the tab, resize them, rearrange them, and quickly search through them all.
File Size: 4004 KB
OS: Windows 2000, XP, Vista, FireFox required.
Foxmarks Bookmarks Synchronizer Firefox Extension
Free
If you who rely on the Firefox browser to remember your Web site passwords,
here's something you might like. The latest version of the popular,
free Foxmarks add-on now has a feature for synchronizing and effectively backing up
the passwords that your browser stores, in much the same way as it does for your bookmarks.
OS: Windows 2000, XP, Vista, Firefox required.
Online Tax Pros 2.0
Free
Take the pain out of tax time with quick and easy online tax preparation and direct e-filing to the IRS.
OS: Windows
Ecofont v.2.00
Free
Free eco-friendly font saves ink and toner.
Once you have downloaded Ecofont you can install the font into your local fonts folder.
The Ecofont is based on an Open Source font and is free to use.
Please note: The font is called Spranq_eco_sans_regular.ttf.
Help
installing a font:
Windows Vista
,
Windows XP
,
Mac OS X
,
Linux
Auslogics System Information v.1.2.17.235
Free
Auslogics System Information provides comprehensive and easy to understand information
about your system configuration.
It will show hardware configuration, video-card information, OS details,
list of running processes, and other information. This information can be saved
as a file and sent to technical support.
Requirements:
Vista/XP/2000/2003 (32-bit and 64-bit supported)
64 Mb of RAM
2 Mb of available disk space
Any Video Converter Free v.2.6.7
Free
This is the most renowned free video converter for converting video files between various formats,
with fast converting speed and excellent video quality.
Input formats:
avi, asf, mov, rm, rmvb, flv, mkv, mpg, 3gp, m4v, vob, YouTube videos
Output formats:
avi, wmv, mp4, 3gp, wmv, flv, MPEG-1 and MPEG-2, mpg (PAL or NTSC)
Magical Jelly Bean Keyfinder v2.0.1
Free
If you had to reinstall Windows tomorrow, do you know where your product ID is?
If the answer is no, get this tiny free utility, which finds product IDs for dozens
of popular programs (including Windows and Office) and lets you print or save the results.
Works with:
Windows-All versions, Office XP, Office 2003, and Office 2007
Windows Live Photo Gallery
Free
The latest version of the Windows Photo Gallery that debuted in Vista is worth downloading.
OS: Windows XP, Vista
Allway Sync v.9.0.1
Free
This is award winning file and folder synchronization software. It combines bulletproof reliability
and an extremely easy-to-use interface.
Size: 4217 Kb
OS: Windows 2000/XP/2003/Vista/2008
Piriform Defraggler v1.05.111
Free
Defraggler differs from other defrag tools on the market, by enabling you to quickly and simply defrag
the files you want to, without having to process the whole drive. Simply run it, select the file
and defragment in seconds. No more struggling with the Windows defragmentation tool!
Size: 702 kB
OS: Windows 2000, 2003, XP and Vista. 64-bit support has also just been added
Blender 2.46
Free
Create, animate, and render 3D images with this free, open-source design tool.
Size: 8,910 KB
OS: Windows 98/Me/2000/XP/Vista
Google SketchUp 7.0.8660
Free
Free, easy-to-learn 3D-modeling program with a few simple tools to let you create 3D models.
Size: 33,234 KB
OS: Windows 2000/XP/Vista
Highly Recommended

FREE

Software
avast! Home Edition Free
Why choose a high-priced subscription antivirus program that bogs down your PC while protecting it, when avast! can do it better?
avast! is one of the few free antivirus applications that does as good a job as any of the big boys.
avast! includes more than seven different kinds of shields, safe-surfing tools, and real-time virus protection for your OS, as well as Outlook.
avast! updates automatically and frequently and, avast! works with both Windows Vista and XP.
avast! gives you all this, in the free (Not for commercial use) version. More options are available in the Pro version.
avast! requires a simple on-line registration during or after the 60 day trial period to continue uninterupted updates.
avast! has been my anti-virus program for the past 3 years.
Version: 4.8.1296
Operating Systems: Windows XP, Windows Vista (Windows 7 Beta)
Go to the download page now:
avast! Home Edition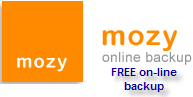 mozy

Free

Safe

Secure

online back-up


I use this every day to keep my important files safe

.


Vista Recovery Discs
Recover data from a damaged Vista system with this little-known Microsoft utility.
Not quite Google


Quick links to almost everything
http://www.allmyfaves.com/
or:
http://mysharedfiles.no-ip.org/AllMyFaves.url

Check out:
Giveaway of the Day

Thanks to ZDNet, PCWorld , Lockergnome.com and many other sources for this nice collection.

You'll find more FreeWare at MySharedFiles

A personal appeal: Please Click here to Help Support MySharedFiles. Thank You

Labels: Baylor, bob3160, clouds, Dallas, Free, freeware, giftoflife, Meadow Lake, MySharedFiles, reunion, Software,
sunset, transplant, weekly