FreeWare W/E 03-13-10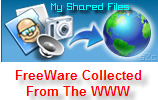 Click here to Help Support MySharedFiles
You'll find more FreeWare at MySharedFiles Continuosly Updated.
XXXXXXXXXXXXXXXXXXXXXXXXXXXXXXXXXXXXXXXXXXXXXXXXXXXXXXXXXXXXX
Taskbar Thumbnail Tweaker v1.0
Free

While you can manually edit the registry to make Taskbar Previews appear faster
or increase taskbar thumbnail preview size, this freeware app lets you do so easily!
Size: 87.5 KB
OS: Win 7



Redmond Path v1.0
Free

Editing search path in Windows environment has never been easy. Now say goodbye to the tiny input field
and use Redmond Path utility to gain full control of this process.
File Size: 123 KB
OS: Windows XP, Windows Vista, Windows Server 2003

Rizone Security Restore v0.2.2.228
Free

This utility returns your computer's security settings to their defaults, undoing any changes.
It's useful if you've recovered your system from a virus attack but don't know if the security settings were altered.
File Size: 351
OS: Windows XP,Windows Vista,Windows Server 2003,Windows Server 2008,Windows 7



XMedia Recode v2.2
Free

This utility can convert almost all known audio and video formats, including 3GP, 3GPP, 3GPP2, AAC, AC3, AMR,
ASF, AVI, AVISynth, DVD, FLAC, FLV, H.261, H.263, H.264, M4A , m1v, M2V, M4V, Matroska (MKV), MMF, MPEG-1,
MPEG-2, MPEG-4, TS, TRP, MP2, MP3, MP4, MP4V, MOV, OGG, PSP, (S) VCD, SWF , VOB, WAV, WMA and WMV.
File Size: 4602 KB

FotoMix v6.0
Free

This is a versatile program that allows you to mix and manipulate different pictures,
to create a wide variety of images.
Remove, add or alter backgrounds. Add or remove your loved and not so loved ones from your pictures.
Design eye-catching photo collages, illustrations, wallpapers, CD and DVD covers, and miscellaneous Web graphics.
Create photo montages by combining multiple pictures into a unique heirloom depicting retrospectives of a birth, marriage,
anniversary, etc. Anything is possible.
The result is so high in quality that it is almost impossible to tell if the photo has been manipulated.
Once your creations are finished, you can print them, email them to friends or transfer them to T-shirts, mugs,
calendars, etc. Make the most out of your photo collection! Play with it. Explore the possibilities.
You will love it.
File Size: 2264 KB
OS: Win7/XP/2003/Vista



DriverEasy v1.0.5
Free

This is a straight-forward application that will help you detect and download your missing or outdated drivers.
DriverEasy Auto-Detect & Download your Hardware Drivers, Quickly & Easily.
File Size: 1996 KB
OS: Win7/XP/2003/Vista

Codertools TotalEdit v5.46
Free

TotalEdit is a powerful notepad replacement and text editor. Packed full of features to help everyone
from office workers, journalists through to programmers and web site editors.
File Size: 8063 KB
OS: Win7/XP/2003/Vista



Dictionary .NET Free v2.3.3719
Free

This is a multilingual dictionary and translation tool that can translate
between 52 different languages. It makes use of several online services including Google Dictionary,
Translate, Search, Suggest and Wikipedia. If the input and output languages are the same (default),
the program will work in dictionary mode and provide detailed information with references and examples,
sometimes even images and audio samples. If a secondary language is selected, the program will focus
on translation features which include related phrases, as well as web definitions.
Dictionary .NET can also be used to quickly look up or translated words or paragraphs on a website
(or any other document) by selecting the text and pressing a keyboard shortcut. Standalone software,
no installation required.
File Size: 85 KB
OS: Win7/XP/2003/Vista


Highly Recommended Software

avast! 5 Free Edition Free
Why choose a high-priced subscription antivirus program that bogs down your PC while protecting it, when avast! can do it better?
avast! is one of the few free antivirus applications that does as good a job as any of the big boys.
avast! includes more than seven different kinds of shields, safe-surfing tools, and real-time virus protection for your OS, as well as Outlook.
avast! updates automatically and frequently and, avast! works with Windows XP, Vista and Windows 7.
avast! gives you all this, in the avast! 5 Free version. More options are available in the Premium versions.
avast! has been my anti-virus program for the past 6 years.
For additional features and added protection,
Please click here for the avast! 5 Premium Products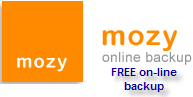 mozy

Free

Safe

Secure

online back-up


I use this every day to keep my important files safe

.


Vista Recovery Discs
Free
Recover data from a damaged Vista system with this little-known Microsoft utility.
Not quite Google


Quick links to almost everything Free
http://www.allmyfaves.com/
or:
http://mysharedfiles.no-ip.org/AllMyFaves.url
Check out:
Giveaway of the Day
Free
Windows '
God Mode
' for Vista and Windows 7
Free

Thanks to ZDNet, PCWorld , Lockergnome.com and many other sources for this nice collection.

You'll find more FreeWare at MySharedFiles

A personal appeal: Please Click here to Help Support MySharedFiles. Thank You

REMEMBER: ORGAN DONORS SAVE LIVES

Labels: Baylor, bob3160, clouds, Dallas, Free, freeware, giftoflife, Meadow Lake, MySharedFiles, reunion, Software, sunset, transplant, weekly