FreeWare W/E 04-10-10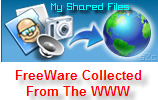 Click here to Help Support MySharedFiles
You'll find more FreeWare at MySharedFiles Continuosly Updated.
XXXXXXXXXXXXXXXXXXXXXXXXXXXXXXXXXXXXXXXXXXXXXXXXXXXXXXXXXXXXX
FotoMorph 10.1.1
Free

This is is a photo animation tool with a friendly user interface. Amaze your friends and family
with unbelievable transformations. FotoMorph lets you make incredible morphs in minutes.
File Size: 2,208 KB
OS: XP/2003/Vista/7

TweakNow PowerPack 2010 2.0
Free

This is a fully-integrated suite of utilities that let you fine-tune every aspect of your computer's
operating system and Web browser.
File Size: 5.9 MB
OS: Windows XP / Vista / 7



Keyboard Shortcuts In Windows 7


Alt + P — Displays or hides the Explorer preview pane
Windows + Up — Maximises the current window
Windows + Down — Minimises the current window
Windows + G — Displays gadgets in front of other windows
Windows + + (plus key) — Zooms in
Windows Logo + – (minus key) — Zooms out
Windows + Right — Snaps to the right hand side of the screen
Windows + Left — Snaps to the left hand side of the screen
Windows + Home — Minimises or restore everything except the current window

Click Here
for
more Shortcut Keys

EASEUS Partition Master Home Edition v5.0.1
Free

The last version of Easeus Partition Master Home Edition was very capable. The latest version is even better:
It can now recover files from deleted or failed partitions. Easeus PMHE also creates, formats, deletes, resizes,
moves, merges, splits, converts, and wipes partitions--and more.
File Size: 11472 KB
OS: Windows XP,Windows 2000,Windows Vista,Windows 7

Paragon Partition Manager 2010 Free v10
Free

PME 10 offers only two options: Create and Resize, and both work on drives that are already fully partitioned.
The program also lets you create a boot disc or flash drive for emergencies. It has some unique features.
File Size: 30591 KB
OS: Windows Vista,Windows 7

Highly Recommended Software

avast! 5 Free Edition Free
Why choose a high-priced subscription antivirus program that bogs down your PC while protecting it, when avast! can do it better?
avast! is one of the few free antivirus applications that does as good a job as any of the big boys.
avast! includes more than seven different kinds of shields, safe-surfing tools, and real-time virus protection for your OS, as well as Outlook.
avast! updates automatically and frequently and, avast! works with Windows XP, Vista and Windows 7.
avast! gives you all this, in the avast! 5 Free version. More options are available in the Premium versions.
avast! has been my anti-virus program for the past 6 years.
For additional features and added protection,
Please click here for the avast! 5 Premium Products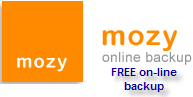 mozy

Free

Safe

Secure

online back-up


I use this every day to keep my important files safe

.


Vista Recovery Discs
Free
Recover data from a damaged Vista system with this little-known Microsoft utility.
Not quite Google


Quick links to almost everything Free
http://www.allmyfaves.com/
or:
http://mysharedfiles.no-ip.org/AllMyFaves.url
Check out:
Giveaway of the Day
Free
Windows '
God Mode
' for Vista and Windows 7
Free

4 kids Of All Ages

Safe programs just for Kids available at MySharedFiles in the Kidz Korner Section.

Thanks to ZDNet, PCWorld , Lockergnome.com and many other sources for this nice collection.

You'll find more FreeWare at MySharedFiles

A personal appeal: Please Click here to Help Support MySharedFiles. Thank You

REMEMBER: ORGAN DONORS SAVE LIVES

Labels: Baylor, bob3160, clouds, Dallas, Free, freeware, giftoflife, Meadow Lake, MySharedFiles, reunion, Software, sunset, transplant, weekly