FreeWare W/E 05-29-10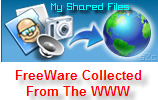 Click here to Help Support MySharedFiles
You'll find more FreeWare at MySharedFiles Continuously Updated.
XXXXXXXXXXXXXXXXXXXXXXXXXXXXXXXXXXXXXXXXXXXXXXXXXXXXXXXXXXXXX
Clamwin Free Antivirus v0.96.1
Free

This Anti Virus program is used by more than 600,000 users worldwide on a daily basis.
It comes with an easy installer and open source code. You may download and use it absolutely free of charge. It features:
High detection rates for viruses and spyware;
Scanning Scheduler;
Automatic downloads of regularly updated Virus Database.
Standalone virus scanner and right-click menu integration to Microsoft Windows Explorer;
Addin to Microsoft Outlook to remove virus-infected attachments automatically.
It is a NON-Resident AV and should

not

be used as your primary Anti Virus program.
File Size: 33.0 MB
OS: Windows 7 / Vista / XP / Me / 2000 / 98 and Windows Server 2008 and 2003

Online Armor Personal Firewall v4.0
Free

This utility provides both a firewall and a whitelist approach to program security for Windows NT, 2000 and XP.
It does not show pop-ups for many known good programs, and it scans all your installed programs when it first runs
so that you can quickly tell it what to do with apps it doesn't know about.
File Size File Size: 11749 KB
OS: Windows XP,Windows Vista,Windows 7

ZoomFoot Send Photo 1.0.30
Free

Stop wasting time resizing and zipping photos, just drag-and-drop your original photos to ZoomFoot,
enter an email address, and ZoomFoot will do the rest, zipping your pictures and delivering them in a single step.
The recipients will receive a message containing a secure link that will enable them to grab the pictures using
their browser.
ZoomFoot Send Photo is the easiest way to privately send photos (up to 4GB at once) to friends over the Internet.
For added convenience, ZoomFoot can resize all of your photos, change their format or even rename them in a single step.
Works with JPEG, RAW, TIFF, PSD, PNG, GIF.
File Size: 902 KB
OS: Win7/XP/2003/Vista

Partition Assistant v2.1
Free

This utility is a comprehensive disk partition solution, which includes a Partition Manager
and Extend Partition Wizard for Windows 7/XP/2000/Vista and Server 2008/2003/2000. Besides,
the magic partition utility can support all hard disks recognized by Windows such as IDE, SATA, SCSI,
Hardware RAID, USB external disks, Fire wire disks etc.
Main Features:
Extend NTFS system partition without restarting computer.
Resize and Move partition to optimize disk space management.
Extend Partition Wizard help you step by step expand the size of your selected partition.
Merge two or more partitions into a larger one.
Split one partition into two or more.
Create, Delete and Format partition.
Convert file system from FAT to NTFS.
Wipe permanently sensitive data to anti-recovery.
Repartition by drag & drop mouse on a disk panel.
File Size: 3.32 MB
OS: Win XP/2003/08/Vista/Windows7
(32 bit
On
ly
)

Highly Recommended Software

avast! 5 Free Edition Free
Why choose a high-priced subscription antivirus program that bogs down your PC while protecting it, when avast! can do it better?
avast! is one of the few free antivirus applications that does as good a job as any of the big boys.
avast! includes more than seven different kinds of shields, safe-surfing tools, and real-time virus protection for your OS, as well as Outlook.
avast! updates automatically and frequently and, avast! works with Windows XP, Vista and Windows 7.
avast! gives you all this, in the avast! 5 Free version. More options are available in the Premium versions.
avast! has been my anti-virus program for the past 6 years.
For additional features and added protection,
Please click here for the avast! 5 Premium Products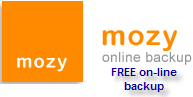 mozy

Free

Safe

Secure

online back-up


I use this every day to keep my important files safe

.


Vista Recovery Discs
Free
Recover data from a damaged Vista system with this little-known Microsoft utility.
Not quite Google


Quick links to almost everything Free
http://www.allmyfaves.com/
or:
http://mysharedfiles.no-ip.org/AllMyFaves.url
Check out:
Giveaway of the Day
Free
Windows '
God Mode
' for Vista and Windows 7
Free

4 kids Of All Ages

Safe programs just for Kids available at MySharedFiles in the Kidz Korner Section.

Thanks to ZDNet, PCWorld , Lockergnome.com and many other sources for this nice collection.

You'll find more FreeWare at MySharedFiles

A personal appeal: Please Click here to Help Support MySharedFiles. Thank You

REMEMBER: ORGAN DONORS LIVE EXTENDED LIVES

Labels: Baylor, bob3160, clouds, Dallas, Free, freeware, giftoflife, Meadow Lake, MySharedFiles, reunion, Software, sunset, transplant, weekly