Paradise Computer Club 3/3/2010
Getting Ready for the event.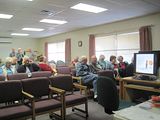 This morning, I visited the
Paradise Computer Club
in Sun City, Arizona.
87 very interested Members and gusts attended the meeting.
Quite a few had already converted to avast! because of last years visit.
The converts where a great asset in making sure that this presentation converts many more.
There are many who are waiting for the email with conversion instructions so they can install avast!7.
Full House