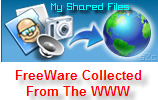 FreeWare 07-04-09
Click here to Help Support MySharedFiles
MJ Registry Watcher v.1.2.6.9
Free
This is a simple registry, file and directory hooker/poller, that safeguards the most important startup files,
registry keys and values, and other more exotic registry locations commonly attacked by trojans.
File Size: 1.34 MB
OS: Windows
DVD Flick 1.3.0.7
Free
This utility aims to be a simple but at the same time powerful DVD Authoring tool.
It can take a number of video files stored on your computer and turn them into a DVD that will play back
on your DVD player, Media Center or Home Cinema Set. You can add additional custom audio tracks,
subtitles as well as a menu for easier navigation.
File Size: 13 MB
OS: Windows XP, Windows Vista or Windows 7
Kate's Video Joiner v.4.4.0
Free
This utility joins multiple videos of similar or different formats and saves it as single video.
Supports AVI, MPEG, WMV, MOV, ASF, 3GP, MP4, DVD, VCD, SVCD, and other formats.
File Size: 9.59 MB
OS: Win9x/NT/200x/XP/Vista/Win7
System Spec v2.67
Free
This is a very simple tool for those that want to gather the most important system specifications
for their computer. It displays the CPU speed, memory (RAM), video card, Windows version, and
serial number and a few other things. It is intended to provide non-technical users with easy access
to this information from a simple interface.
The self contained EXE lists a no-nonsense specification of your machine without listing lots of useless information.
File Size: 2.54 MB
OS: Windows/All
Highly Recommended

FREE

Software
avast! Home Edition Free
Why choose a high-priced subscription antivirus program that bogs down your PC while protecting it, when avast! can do it better?
avast! is one of the few free antivirus applications that does as good a job as any of the big boys.
avast! includes more than seven different kinds of shields, safe-surfing tools, and real-time virus protection for your OS, as well as Outlook.
avast! updates automatically and frequently and, avast! works with both Windows Vista and XP.
avast! gives you all this, in the free (Not for commercial use) version. More options are available in the Pro version.
avast! requires a simple on-line registration during or after the 60 day trial period to continue uninterupted updates.
avast! has been my anti-virus program for the past 3 years.
Version: 4.8.1335
Operating Systems: Windows XP, Windows Vista (Windows 7 Beta)
Go to the download page now:
avast! Home Edition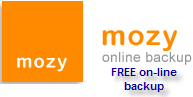 mozy

Free

Safe

Secure

online back-up


I use this every day to keep my important files safe

.


Vista Recovery Discs
Recover data from a damaged Vista system with this little-known Microsoft utility.
Not quite Google


Quick links to almost everything
http://www.allmyfaves.com/
or:
http://mysharedfiles.no-ip.org/AllMyFaves.url

Check out:
Giveaway of the Day

Thanks to ZDNet, PCWorld , Lockergnome.com and many other sources for this nice collection.

You'll find more FreeWare at MySharedFiles

A personal appeal: Please Click here to Help Support MySharedFiles. Thank You

Labels: Baylor, bob3160, clouds, Dallas, Free, freeware, giftoflife, Meadow Lake, MySharedFiles, reunion, Software,
sunset, transplant, weekly